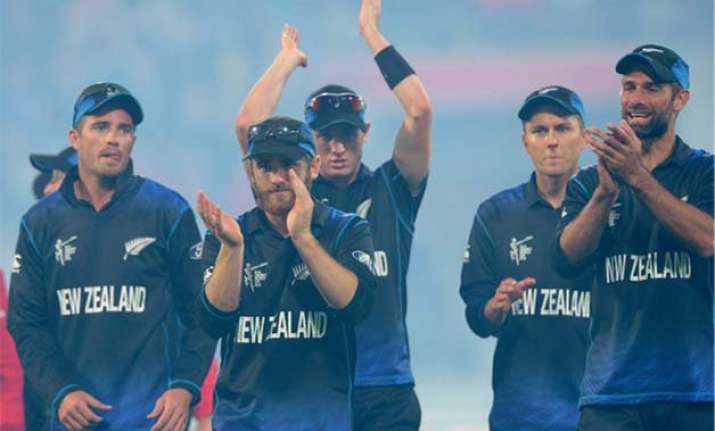 Auckland: Either South Africa or New Zealand will create history in Tuesday's Cricket World Cup semifinal -- and the loser will be left to contemplate another blown chance at the one-day game's biggest prize.
Co-host New Zealand is unbeaten in the tournament yet carries the knowledge that it has reached the semifinals six times before, and never gone further.
South Africa's catalog of World Cup failures is well documented, and anything less than a semifinal victory will be regarded as further under-achievement for a team that is a perennial contender but never reached a final.
ALSO READ: A guide to the Cricket World Cup semifinals
New Zealand captain Brendon McCullum said his team will try to put aside the pressure of the occasion and maintain the devil-may-care approach to batting which has served it so well through the tournament.
"The way we've been playing has been a pretty exciting brand of cricket," McCullum said on Monday.
"Just because it's a pressure game we shouldn't change that. It's our greatest chance of success. For us to win World Cups and crunch games we need to remain true to that. That's our most authentic style of cricket and I wouldn't think that will change tomorrow."
New Zealand is riding a wave of public enthusiasm at how a team that is so often an underdog has become an intimidating force at international level. That goodwill is likely to be maintained even if the Black Caps lose the semifinal.
For South Africa, it's a different story. The series of blown chances over the years has exhausted all reserves of patience among Proteas fans, and the label of `chokers' will be revived if they fall at the penultimate stage yet again.
"There has been a lot of emphasis on our past and South Africa not doing well at World Cups," captain A.B. De Villiers said on Monday.
"We don't mind that too much. I have gone through the whole package of emotions, fighting it, accepting it, then fighting it again."
The different level of pressure on the two sides was reflected in the pre-game attitudes of the two skippers: relaxed and fatalistic from McCullum, and expectant and bullish from de Villiers.
McCullum said he did not expect to have any trouble sleeping on Monday night, and was cannily playing down the level of expectation for his team.
"Being too stressed doesn't help much, so you might as well just relax and look forward to the opportunity to go out there and represent your country in a really big game," McCullum said.
"Express yourself, enjoy the occasion, put our best foot forward and we'll see where the cards fall after that."
By contrast, de Villiers exuded confidence, whether heartfelt of designed to put some doubt into the mind of his opponents.
"We know if we play a good game of cricket we will come out on top," de Villiers said. "We are that confident of our abilities as a cricket team.
"If we play to our full potential that no-one is going to stop us in this tournament."
New Zealand had a setback on the eve of the game, with seamer Adam Milne ruled out of the match with a heel injury. McCullum and coach Mike Hesson will check the Eden Park pitch on matchday before making a decision on Milne's replacement. The relatively inexperienced Matt Henry was called into the New Zealand squad on Monday as a potential like-for-like replacement and is the most likely call-up.
South Africa still has a minor injury concern around seamer Vernon Philander who has had a hamstring injury. Philander seemed untroubled when he bowled in the nets on Sunday and he might play at the expense of Kyle Abbott.
Auckland's weather is notoriously changeable and unpredictable and forecasts for Tuesday, and for the reserve day on Wednesday, have fluctuated in recent days. On Sunday, the chance of rain at Eden Park was rated at about 20 percent but by Monday that had grown to 60 percent and the official forecast was for scattered showers.
The forecast for the reserve day is more favorable with warm temperatures and no mention of rain.
The winner of Tuesday's game will play in the final at the Melbourne Cricket Ground against the victor of Thursday's semifinal between Australia and India.