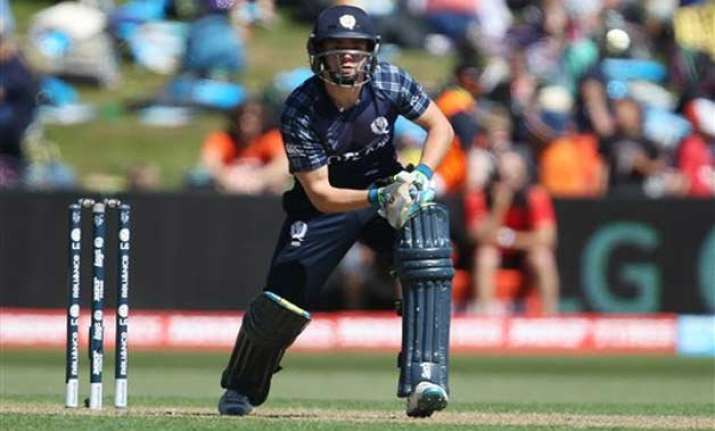 Hobart: Left-arm pacer Mitchell Starc stood out with excellent figures of 4/14 as Australia registered an easy seven-wicket win over Scotland to finish second in Pool A going into the quarterfinals of the cricket World Cup here Saturday.
After skipper Michael Clarke opted to bowl in their last round robin league match, Australia packed off Scotland for 130 in 25.4 overs and then chased down the target with 208 balls to spare at the Bellerive Oval.
Here is the scoreboard of Australia vs Scotland Group A, 40th Match of the ICC World Cup 2015 .
Toss: Australia won the toss and elected to bowl
Scotland innings: 130 all out in 25.4 overs
| | | |
| --- | --- | --- |
|  Kyle Coetzer |  c Smith b Starc |  0 |
|  Calum MacLeod |  c Warner b Starc |  22 |
|  Matt Machan |  c Faulkner b Cummins |  40 |
|  Preston Mommsen |  c Starc b Watson |  0 |
|  Freddie Coleman |  c Clarke b Johnson |  0 |
|  Richie Berrington |  c Warner b Maxwell |  1 |
|  Matthew Cross |  c Haddin b Cummins |  9 |
|  Josh Davey |  b Starc |  26 |
|  Rob Taylor |  c Haddin b Cummins |  0 |
|  Michael Leask |  not out |  23* |
|  Iain Wardlaw |  b Starc |  0 |
|  Extras |  (lb 1, wd 8) |  9 |
|  Total |  all out |  130 |
|  Overs |  innings break |  25.4 |
|  Fall of wickets                                  |  1-8 (Coetzer, 2.5 ov), 2-36 (MacLeod, 6.6 ov), 3-37 (Mommsen, 7.3 ov), 4-50 (Coleman, 10.1 ov), 5-51 (Berrington, 11.1 ov), 6-78 (Machan, 16.2 ov), 7-79 (Cross, 16.4 ov), 8-95 (Taylor, 20.1 ov), 9-130 (Davey, 25.2 ov), 10-130 (Wardlaw, 25.4 ov) |                        |
Bowling
| | | | | |
| --- | --- | --- | --- | --- |
|  Bowler |  Overs |  Maidens |  Runs |  Wickets |
|  Mitchell Starc |  4.4 |  1 |  14 |  4 |
|  Pat Cummins |  7 |  1 |  42 |  3 |
|  Shane Watson |  3 |  0 |  18 |  1 |
|  Mitchell Johnson |  4 |  1 |  16 |  1 |
|  Glenn Maxwell |  4 |  0 |  24 |  1 |
|  James Faulkner |  3 |  0 |  15 |  0 |
Australia innings (target: 131 runs from 50 overs)
| | | |
| --- | --- | --- |
| MJ Clarke* |  c Leask b Wardlaw | 47 |
| AJ Finch    |  c Coleman b Taylor | 20 |
| SR Watson     | c †Cross b Davey | 24 |
| JP Faulkner | not out | 16 |
| DA Warner | not out | 21 |
| Extras | lb 2, w 3 | 5 |
| Total | for 3 wickets | 133 |
| Fall of wickets | 1-30 , 2-88,  3-92 |   |
Bowling
| | | | | |
| --- | --- | --- | --- | --- |
| Bowler | Over | Maiden | Run | Wickts |
| I Wardlaw | 5 | 0 | 57 | 1 |
| RML Taylor | 5 | 0 | 29 | 1 |
| JH Davey | 5 | 1 | 38 | 1 |
| MA Leask | 0.2 | 0 | 7 | 0 |