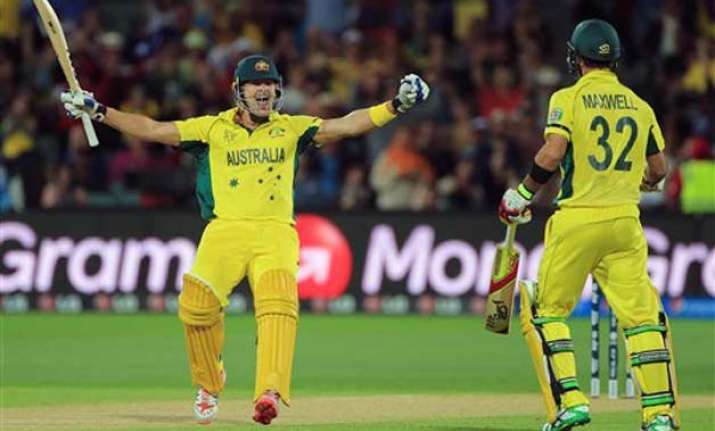 New Delhi: Despite India's seven back-to-back wins in the ongoing World Cup, bookies across Mumbai and Delhi are favoring Australia to win the semi-final in Sydney on Thursday.
As reported by Hindustan Times, the ongoing rate for the Aussies in Delhi is 42 paise and Rs 2.25 for Dhoni's boys. "If Australia wins, the return on every rupee is Rs 1.42 but it is Rs 3.25 for India. Australians are favourites because the match is in Sydney. If it was being played in India, then we would have been the favourites," said a bookie.
Bookies predicted Australia would score 313 runs if they bat first while the Men in Blue would come up short with just 225. If India bat first, they are expected to score 275 runs.
Mumbai bookmakers concurred, calling the defending champions the least likely to win the marquee event and offering odds of Rs 1.10 for Australia, Rs 2 for New Zealand and Rs 4.50 for India.
The lower the odds, the higher are the chances of a team winning. So, if one bets Rs 100 on India and they win the World Cup, the person wins Rs 450.
The rates, however, keep changing and are decided on the day before the match, based on several factors, including injury to any player, weather, pitch conditions, etc but when the team enters the semifinal, bookmakers do not place bets on individual players.
Moreover, India confronts a side that has won seven of their 10 World Cup encounters against them. Although, the Mahendra Singh Dhoni-led team had secured a five-wicket win in the quarter-final at home in Ahmedabad four years ago.