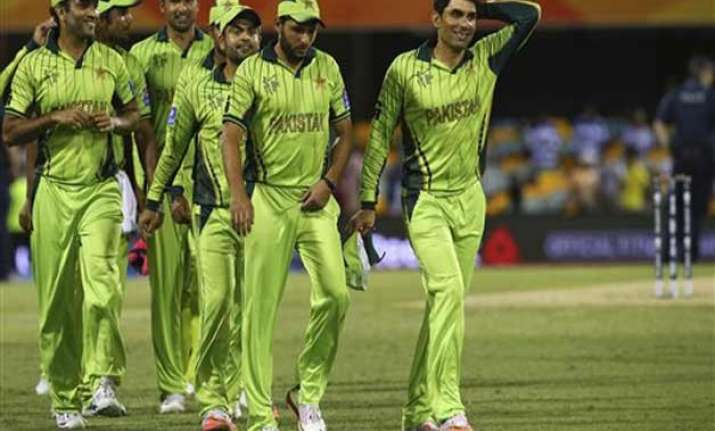 Brisbane, Australia: The top-order batting failures are becoming a serious burden on Misbah-ul-Haq and his Pakistan team, which relied on an aggressive assault from fast bowlers Mohammad Irfan and Wahab Riaz on Sunday to narrowly avoid a third consecutive loss at the World Cup.
The 1992 champions broke their drought at the 2015 World Cup with a 20-run win over Zimbabwe, a result desperately needed after a 76-run loss to archrival India and a 150-run loss to the West Indies.
Pakistan's best opening stand of the tournament so far is 11 runs in the opening match, when Ahmed Shehzad scored 47. Pakistan was all out for 224 chasing 301 to win. Against the West Indies, a reshuffled Pakistan lineup lost its first wicket without scoring and quickly slipped to four wickets down for one run.
Ultimately, Pakistan was all out for 160 chasing 311 to win. Another reshuffle didn't make much difference against Zimbabwe, with Pakistan batting first but still losing its first wicket with one run on the board and slipping to 4-2 when Shehzad was out.
That brought skipper Misbah to the crease for another salvage operation.
Misbah, who scored 76 against India, batted through 42 overs and faced 121 balls for his 73 against Zimbabwe before he was out trying to lift the run rate. Pakistan finished at 235-7, which was only just enough to defend.
"That is being a problem for us, unfortunately," Misbah said. "If you lost confidence once, it could be really difficult for you as a batsman to just come out of that, and unfortunate that our top order is just in that kind of mental state.
"So it's really difficult for me, also, and the lower- and the middle-order batsmen to just keep on going like that."
Losing key players in the leadup to the tournament hasn't helped Pakistan, with selectors still trying to figure out the best starting combination. Part-time wicketkeeper Umar Akmal has been filling both fielding and batting roles to allow either an extra batsman or bowler into the lineup, depending on the conditions. Nasir Jamshed, a late addition to the squad, has scored one run in two starts. Veteran Younis Khan was used as an opener and a No. 3, but was dropped for the Zimbabwe match after going out for 6 and 0 in the first two games. Sarfraz Ahmed, overlooked so far as a specialist wicketkeeper, is apparently in contention now to open the batting.
The problem for the top order has been the difficulty in adjusting to the pace and bounce of the pitches in Australia, which are much livelier than the wickets they're used to playing on in Asia.
"These conditions are not easy," Misbah said. "Whoever is batting at the top, especially with the quality bowling lineups, two new balls, if you are not confident enough and you are not in the runs, it could be really, really horrible for you, and that's what's happening. But if we really want to win against South Africa and we really want progress in this World Cup, we have to come up with some performances."
While the batsmen struggled, 7-foot-1 (216-centimeter) Irfan took delight in the conditions, returning a career-best 4-30. He was backed up by Riaz, who backed up his unbeaten 54 with the bat by snaring 4-45 with the ball.
"Credit goes to the bowlers. They just kept the pressure, just kept taking wickets," Misbah said. "Even if you are just defending a low total, if you have the bowlers who can take wickets at intervals, you can really just penetrate.
"Irfan really started well, and right from the start just put them under pressure."
Pakistan moves to New Zealand for its next two matches, against second-tier United Arab Emirates at Napier on Wednesday and then South Africa at Auckland on Saturday. The combination will likely change again, but Misbah is expecting similar output from his seamers.
"That is the only survival for us because if your batting is not clicking, you need to be really aggressive in your fielding and in your bowling because ... still we have to fight," he said. "This is the way we have to approach the game."