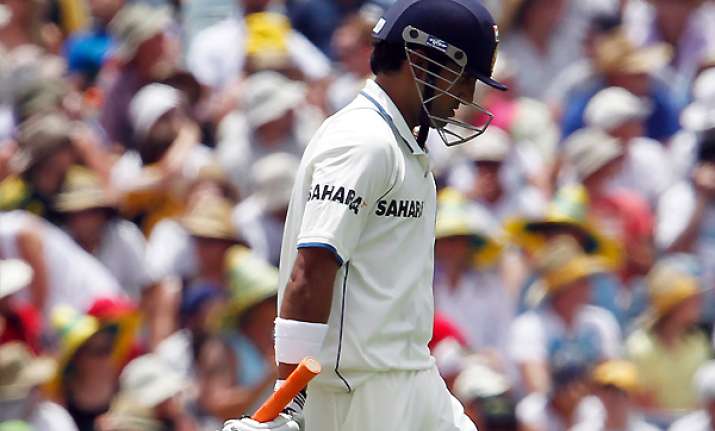 Perth, Jan 17: Opening batsman Gautam Gambhir lashed back at critics blaming V.V.S Laxman for India's batting debacle, saying the entire veteran batting lineup must take the responsibility for the letting their nation down.

The No.2 ranked India arrived in Australia with high expectations of winning the four-test series, but now trails 3-0 with the final test starting in Adelaide on Jan. 24.

"There was a lot of expectation from us on this tour ... the kind of batting we have, we've let the entire nation done," Gambhir said Tuesday.

India was trounced inside 2 1/2 days by an innings and 23 runs, the side's seventh straight loss in an overseas test.

"Hopefully we can turn things around in Adelaide (and) put some smiles on the faces of the people back home," Gambhir said.

It has been a lopsided series in terms of a contest with the young and the inexperienced Australian pace attack exposing India's fragility against swing and seam bowling.

After losing the series opener in Melbourne by 122 runs, India lost the second test by an innings and 68 runs at Sydney inside four days.

"Whatever backlash that's happening in India we are ready to accept. We've given opportunity for people to criticize," Gambhir said.

"We have not played well. I'll be the first to accept that," he said. "If you want to be the No.1 test playing nation you have to start winning overseas whether it is Australia, England or South Africa."

Laxman, 37, has managed 102 runs in six innings at an average of 17, and there have been suggestions by former Indian players that he should retire.

Although India's chief selector Krishnamachari Srikanth has said Laxman's place in the India lineup is safe, the 133-test veteran who made his name in test cricket with his match-winning 281 against Australia in Kolkata in 2001, has been struggling lately.

After averaging 22.75 in India's 4-0 series loss in England, Laxman scored 298 runs at 99.33 at home against the West Indies before embarking on the tour to Australia.

"Whey criticize one person. He's been a legend of the game. Why only V.V.S. Laxman?" Gambhir said. "The top seven (batsmen) should be criticized. We all have failed as a unit. He's served Indian cricket for a long long time.

"No one else should decide when it's best for Laxman to retire. He should make that decision.

Gambhir is confident Laxman and India are one innings or one session away from turning around a disastrous tour, and hope the change in fortunes will be carried into the upcoming one-day tri-series with Australia and Sri Lanka.

Gambhir was of the view that too much focus is on India's poor show rather than crediting Australia for its clinical, ruthless and consistent execution of its skills.

While test newcomer David Warner stole the limelight with the fourth fastest test century and a career best 180, the Australia pace attack, led by Ben Hilfenhaus and Peter Siddle, steamrolled India on the fast and bouncy WACA ground surface.

"We always knew it was going to be challenging ... it's a tough place to play cricket," Gambhir said. "A lot of credit goes to them (Australia). You should not be hesitant giving credit when they've done well.

"They've played some very good cricket. As a unit, as a team, they've played good cricket ... they kept us under pressure and never let us off the hook."