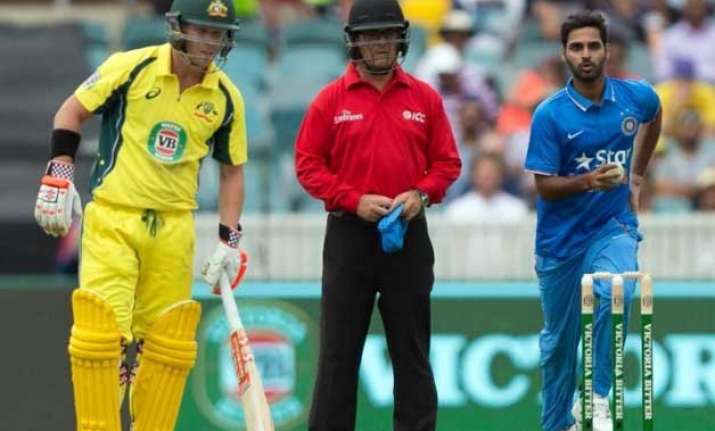 New Delhi: The fourth ODI between Australia and India at the Manuka Oval on Wednesday witnessed what could be the beginning of a new trend in international cricket. In the first ever instance of the kind in an official ICC match, John Ward, the Australian umpire during today's match was seen donning a helmet as he stood behind the non-striker's stumps.
Ward has been lucky to survive when he was hit hard on the head by a firmly struck shot from Punjab's Barinder Sran during a Ranji Trophy fixture between Punjab and Tamil Nadu. He fell on the ground immediately but managed to gather himself and walk off the field on his own.
"I've had close shaves in the past, a couple have been real tight and they weigh on your mind. I thought, 'What needs to happen before we do put one on?' I'd rather put one on just before I get hit than just after. The T20 game has evolved to the stage where guys are practising specifically whacking balls as hard as they can and it's just coming off faster and faster. As far as I'm concerned, it's just reached the point where it makes sense on every level, we're only 24 yards from the bat and if it's coming back at us pretty quickly there's not a 'helluva' lot of time to move," Ward told a leading online portal.
While Ward's gesture was the first of its kind in international cricket, Gerald Abood was the first umpire to wear a helmet during a Big Bash League match between the Melbourne Renegades and Perth Scorchers at Melbourne's Etihad Stadium. His inspiration, however, was Ward's injury during the Ranji match.
Ward's decision may have raised eyebrows during the match today. Nevertheless, it is a serious step in the direction of improving the much-needed security standards of the game which has become necessary, especially after the death of Australian player Phillip Hughes.