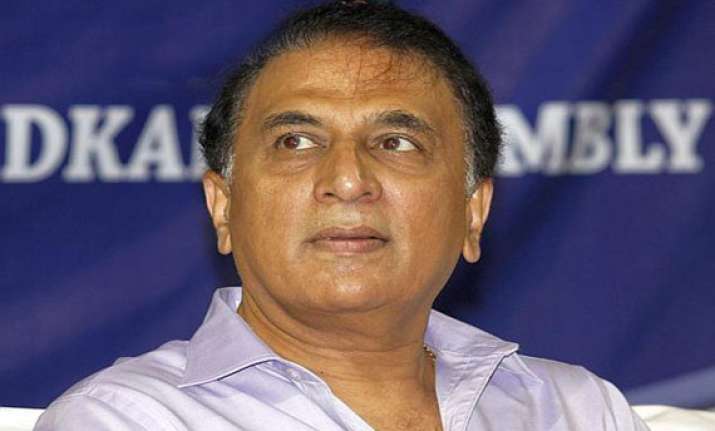 Nagpur,Dec 17: Batting legend Sunil Gavaskar feels young Virat Kohli is the future of Indian cricket and he is ready to take up the captaincy job from incumbent Mahendra Singh Dhoni in the aftermath of the series defeat against England.
England broke the 28-year-old wait by defeating India 2-1 verdict in the Test series after the fourth and final match ended in a draw here on Monday.
Gavaskar said it is time the selectors look to the future as Dhoni seemed out of sorts in this series.
"Till the fourth day of this Test I said there is no alternative to Mahendra Singh Dhoni, but now that Virat (Kohli) has come up with a 100 under trying circumstances I think he has discovered a good part about himself. I think he is ready to take on the mantle," the former India skipper said.
"I think this is something to be looked at in a positive manner because that's where the future is," Gavaskar told NDTV.
He also criticised the Indian team for the humiliating defeat but Dhoni's name came up for special mention for his ordinary and unaggressive captaincy in this series.
"If India were looking for a win they should have shown the intent by declaring at the overnight score. England batted exceedingly well but our bowlers were ineffective and our batters didn't do as much as they were expected to do. It was a team failure," he said.
"You don't put a forward short-leg and a silly point to just get wickets. You also put them to pressurise the batsmen and get his wicket somewhere else. When you crowd a batsmen with fielders in his peripheral vision pressure automatically come on him and that's what he (Dhoni) didn't do," Gavaskar said about Dhoni's reluctance to deploy a more attacking field during England's second innings.
"I don't think England necessarily played better than us but they were more determined. They didn't lose heart after the defeat in the first Test in Ahmedabad and instead put in extra effort," he observed.
The cricketer-turned-commentator also said that it is time Sachin Tendulkar should make a decision on his career as he felt the senior batsman was no longer enjoying his time on the field.
"The important thing is how much you are enjoying the game. If you are not enjoying the game, enjoying to be on the field and doing things other than your speciality I feel that's the time to move on. May be that's happening to him (Tendulkar) and may be he will know that the time is right to go," Gavaskar said.
"Quite clearly this series wasn't good for him. In this Test he looked just a bit lost in (England's) second innings, at least that is what I have gathered from his body language.
May be that's the sign.
"As he said I think he will reassess his future before the Australia series," he added.
The former opener said complacency also had a big role to play in India's embarrassing defeat.
"Complacency is a part of Indian psyche and you can't do much about it. Every time an Indian tries to be ambitious he is pulled down and that's one of the reason why Indians don't have the killer mentality," Gavaskar observed.
"Having won the first Test in Ahmedabad that complacency factor came in. I don't think India wanted to win (the series) as badly as England wanted. I didn't look helpless out here, they looked capable but the instinct was missing," Gavaskar added.