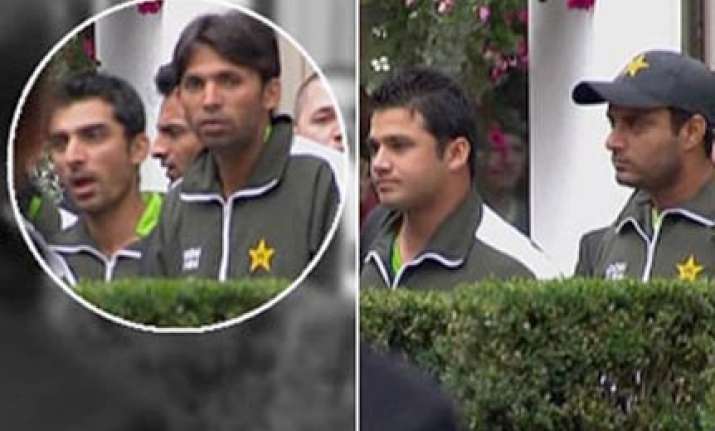 London/Karachi: Pakistan's tainted trio of Salman Butt, Mohammad Asif and Mohammad Aamir will miss the team's practice game against Somerset on Thursday as they faced another round of interrogation from the Scotland Yard amid growing calls for their ouster from the ODI series against England.
The trio left Taunton for London today accompanied by a security officer and were expected to have an emergecy meeting with Pakistan Cricket Board officials, besides being questioned by Scotland Yard sleuths on their alleged role in the 'spot-fixing' scandal that has rocked world cricket.
The ICC Chief Executive Haroon Lorgat is also said to have met the PCB Chairman Ijaz Butt during the day to discuss the scandal in the backdrop of England's Players' body demanding the ouster of tainted cricketers from the Twenty20 and ODI series.
The trio, which has been implicated in the scandal after a sting operation by a British tabloid, is set to be quizzed by the Scotland Yard for the second time but they are not in danger of being arrested, a Pakistan Cricket Board official said.
Their meeting with Pakistan High Commission officials here has, however, been postponed to Thursday. I
The trio will now miss Pakistan's practice match against Somerset starting tomorrow as that will clash with their meeting with PCB and High Commission officials at the High Commission here.
Pakistan team manager Yawar Saeed said no player has been charged as yet nor any case registered against them and they are available for the forthcoming Twenty20 and one-day series.
"As it stands now, the players have only been questioned by Scotland Yard. No one has been charged neither has Scotland Yard found any incriminating evidence against any player," a PCB official said.
"We have hired a barrister to assist the players and will be present when they meet with Scotland Yard detectives today. The questioning is part of routine investigation but all the players who are being questioned are available for selection and play in the coming series," he added.
The Pakistan High Commission has also asked the Scotland Yard to provide it with a preliminary report on the investigations.
The investigations are still on but England's Professional Cricketers Association wants the three to be dropped immediately so that the remaining tour does not become a "sideshow" to the murky scandal.
PCA chief executive Angus Porter said England players want the International Cricket Council to take decisive action before Sunday's Twenty20 International at Cardiff.
"The England players understand it is important the games go ahead and they will be professional but they would or will find it really difficult to play against the guys directly implicated," Porter said.
 "Our strong feeling is a way needs to be found to ensure that they are either suspended or, if that is not possible, some other solution is found so that they do not play," he was quoted as saying by 'Daily Telegraph'.
"They have not said so but I suspect they are getting frustrated (by the delay) but after the conversations I have had with them everybody agrees we want to see strong, decisive and appropriate action taken to address this complex issue. We have to take it seriously. There can't be any fudging," he said.
Kamran Akmal, the wicketkeeper whose name also figured in the "expose" by British tabloid 'News of the World', remains part of the squad to face Somerset.
Scotland Yard yesterday announced that Akmal was no longer a part of their investigation.
In another development, a two-member team of the ICC's anti-corruption and security unit questioned Asif's estranged girl friend Veena Malik regarding her statement that the bowler had done spot-fixing in recent times.
"The two officials had a meeting with Veena today but everything is being kept secret including the identity of the other ACSU man," a source said.
Meanwhile, Bangladesh Cricket Board said several senior players, including captain Shakib Al Hasan, were approached by illegal bookmakers during the home Test series against India earlier this year.
Shakib along with opener Tamim Iqbal were contacted by match-fixers and the incident was immediately brought at the notice of ICC's Anti Corruption and Security Unit (ACSU), BCB's media committee chairman Jalal Yunus said.  
The murky saga also continued to unfold in Australia with fresh reports emerging of an Indian bookmaker making approaches to fast bowlers Brett Lee and Mitchell Johnson during the Ashes in England last year.
All-rounder Shane Watson and wicketkeeper-batsman Brad Haddin had revealed yesterday that they were approached by a bookmaker in England during the Ashes and Australian team manager Steve Bernard today said the same man also approached Lee and Johnson during that time.
Lee, Johnson and Watson had passed on the mobile phone number of the alleged bookmaker who approached the trio during the Ashes in London last year, a report in the "Daily Telegraph' said. PTI