Follow us on New Delhi: India's hard hitting batsman Suresh Raina has joined PM Modi's Swachh Bharat Abhiyan here today. Raina cleaned an orphanage in Ghaziabad to be a part of Clean India Campaign.
Raina was nominated by Prime Minister Narendra Modi with 8 others during his visit to Varanasi few days back.
Suresh Raina has urged his fans to keep the city clean.
"I feel proud to be nominated by PM Modi for Clean India Campaign", said Raina.
Previously, many celebrities have volunteered to be associated with  Swachh Bharat Abhiyan (Clean India Campaign) and have urged people to join the campaign to make India clean across the nation.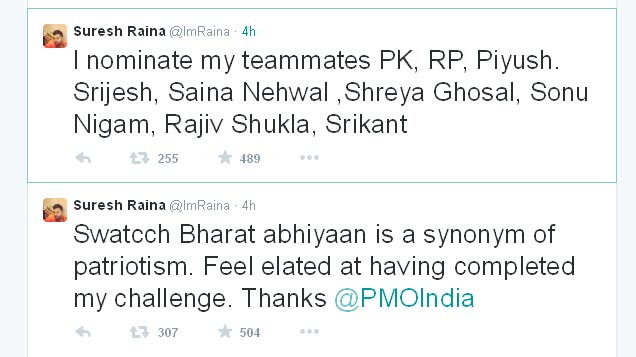 Raina said, "I am taking this campaign very seriously and have urged other team mates to volunteer in Swachh Bharat Abhiyan".
Suresh Raina has nominated 9 others to join the campaign.
Rajeev Shukla (BCCI Vice-President), Sonu Nigam (Singer), Saina Nehwal (Badminton player), Praveen Kumar (Cricketer), Rudra Pratap Singh (Cricketer), Shreya Ghoshal (Singer), K. Srikanth (Badminton player), P. R. Srijesh (Hockey player) and Piyush Chawla (Cricketer).
Asked on his preparations for World Cup, he said "team India and myself are ready for the Australia tour and World Cup. Two practice matches before Australia series would be very handy".