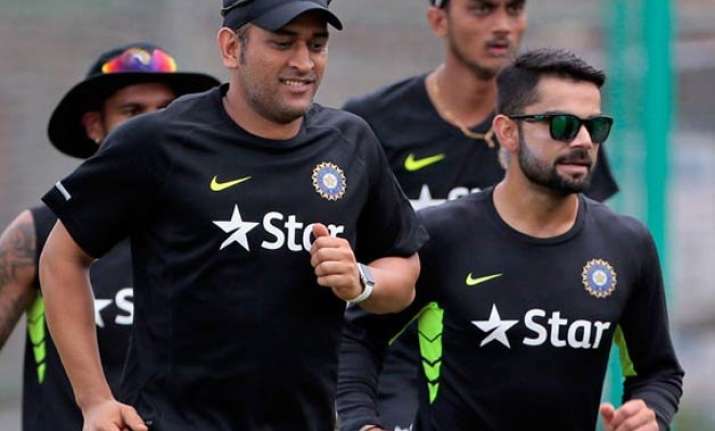 Kanpur: Disagreement between India's Test and limited over captains Virat Kohli and MS Dhoni, respectively, seems to have reflected on the team's performance on Sundays' ODI against South Africa.
Reportedly, Kohli had a verbal spat with captain Dhoni over his batting order, just before start of the match.
As per the reports, Kohli was not happy over his demotion to number four, as he enjoys batting at no. 3.  
When Dhoni decided to include Ajinkya Rahane in the playing XI, Virat protested, as it would mean change of his batting order.
It was during the discussion over Kohli's batting order which ultimately led to a verbal spat between the captain and the vice captain.
However, Dhoni denied to such rumours later in the day.
After the match ended in a defeat for the hosts, Dhoni blamed Kohli for the loss in a veiled reference.
"We lost momentum between overs 34-40 during the chase. We were positioned very well. But I felt around 35-40 overs we failed to get a move on. That would have made things easier," said Dhoni in his post match conference.
Kohli and centurion Rohit Sharma were at the crease in those overs. Analyst say that it was Kohli's 11 runs in 18 balls that made a difference to the host nation.
India scored only 21 runs in the six overs Kohli was at the crease.
Kohli, while talking to mediapersons after the match, criticised the decision making process in the team.
"We have been doubtful in our decision making and that shows on the field. I don't need to say this in an interview, cricket watchers and experts can watch that guys are not sure enough to express themselves properly," said Vice captain.
Cricket experts, on the other hand, have a lot of criticism for both Kohli and Dhoni.
India TV cricket expert Chetan Sharma criticised Kohli for his game and said those six overs cost India the match.
"If you are not ODI and T-20 captain that means you will not score? There were 21 runs in six overs that cost us the match. Then you blame the batting order," Sharma said.
"I am very unhappy with Kohli's performance because from Dharamsala to Kanpur, you are playing cricket with your words. You can not win matches with words," Sharma said while commenting on Kohli's performance.
Dhoni has also faced criticism from all quarters for his captaincy and his performance in the match.
Former cricketers including Suni Gavaskar, Mohammad Azharuddin and Ajir Agarkar had criticised Dhoni after the loss in Kanpur.