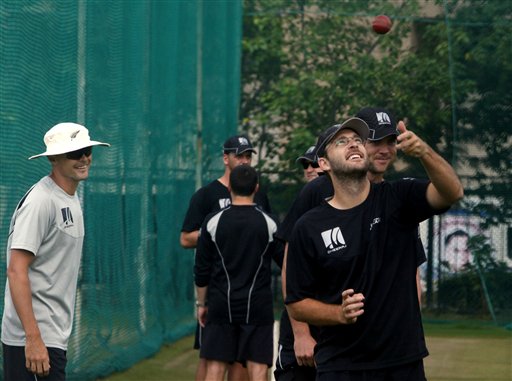 Hyderabad, Nov 11 :  Their confidence has got a boost after the opening Test draw but New Zealand skipper Daniel Vettori today said some members of his team still need to "pick themselves up" against the formidable Indian team in the second Test starting here tomorrow.
"We have to not just maintain but improve on our performance in the first Test. There are still some guys who need to pick themselves up," Vettori said.
"In the first Test Chris Martin came in and gave us a great chance and then India made a fightback," he added.
New Zealand came into the series as underdogs and were not given much of a chance after the 0-4 drubbing they got at the hands of Bangladesh in an ODI series last month.
But the nation, which is known to punch above its weight, produced a trademark fighting show in the opening Test in Ahmedabad to snatch a draw.
New Zealand, in fact, had India on the mat on the final day and were on the verge of scripting a memorable win, but VVS Laxman's gritty knock of 97 and Harbhajan Singh's (110) maiden century saved the day for the hosts.
While praising the formidable Indian batting line-up, Vettori said playing on flat tracks has helped Mahendra Singh Dhoni's men transform into a bunch of world-beaters.
"What India has done is to prepare flat wickets and that has helped the team play better and become more competitive all round the world," Vettori said.
"It's always a big challenge to take 20 wickets against the formidable India line-up," the Kiwi said.
Asked about the positives that the Kiwis took from the Ahmedabad Test, Vettori said the focus is now firmly on the upcoming match.
"One Test match doesn't really matter and we will be judged on the basis of our performance here," he said.
Asked about the composition and the wicket Vettori said, "It looks a little bit flat but we are hoping it would offer some assistance to the bowlers. It will offer some pace I think.
"We will have another look and then see the combination," he said. PTI