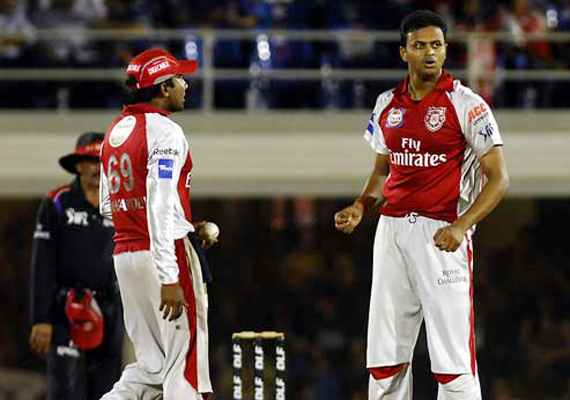 New Delhi, May 16: The BCCI on Wednesday began the probe into the spot-fixing scandal that has rocked the cash-rich IPL with one of the suspended domestic players Shalabh Srivastava deposing before the inquiry commission.
Barely a day after the BCCI cracked the whip by suspending five tainted players in the wake of India TV sting operation which exposed corruption in IPL, Ravi Sawani, who is heading the inquiry commission, met Srivastava to hear his side of the story on the sting operation.
The meeting, which took place at a five-star hotel, is learnt to have lasted for an hour.
There was, however, no official word from the BCCI on the development.
Sawani, a former chief of the ICC's Anti-Corruption and Security Unit (ACSU), has been asked to submit his report to the BCCI's Discplinary Committee within 15 days. Sawani is now the chief of the BCCI's Anti-Corruption unit.
Apart from Srivastava, the BCCI had on Tuesday suspended Mohnish Mishra, TP Sudhindra, Amit Yadav and Abhinav Bali with immediate effect pending inquiry. The decision was taken after a lengthy tele-conference of top BCCI officials and members of the IPL's Governing Council.
The Cricket Board had swung into action a day after the expose as the issue rocked Parliament and former players and cricket administrators called for strong action to rid the game of even a whiff of a scandal.
Sawani will meet the other four suspended players in the coming days before finalising his report, a top BCCI source said.
India TV sting operation which was aired at prime time created a flutter in the Indian cricket establishment prompting the BCCI to react quickly.
The sting operation showed many players confessing on hidden camera they get much more than their prescribed auction under the table.
The operation also revealed that spot-fixing is not only prevalent in IPL but also that first class matches are fixed and women played an important role in match-fixing.
The IPL's Governing Council had sought video footage from the TV channel and is understood to have scrutinised the tapes before taking the decision of suspending the players.
Srivastava, who deposed before the Commission today, is a left-arm seamer from Uttar Pradesh and was India's highest wicket-taker at the Under-19 World Cup in Sri Lanka in 2000. After severing ties with ICL team Delhi Giants, Srivastava was signed up by Kings XI Punjab in 2011.
Four of the five players suspended had played in the rebel Indian Cricket League.