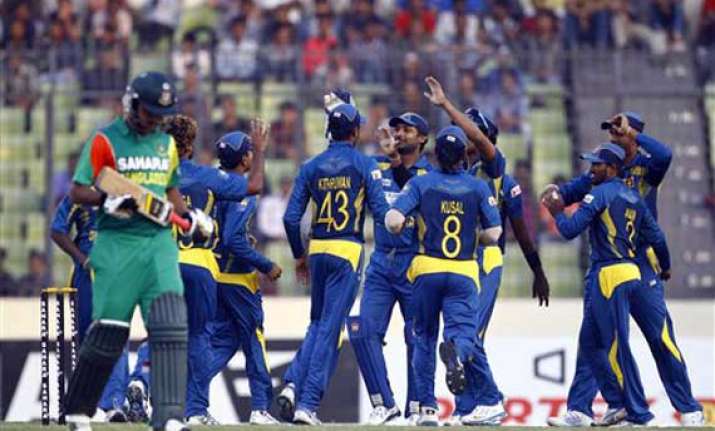 Mirpur (Bangladesh): Kumar Sangakkara's 17th international century led Sri Lanka to an easy 61-run win over Bangladesh in the second one-day International at Sher-e-Bangla National Stadium on Thursday.
Bangladesh was bowled out for 228 in reply of Sri Lanka's 289-6. The victory gave Sri Lanka an unassailable 2-0 lead in the three-match series.
Sangakkara struck 128 to steer his side to the commanding victory. Ashan Priyanjan made 60 while captain Angelo Mathews was 56 not out.
Rubel Hossain was the pick of the bowlers, claiming 3-76, while Arafat Sunny, Shakib Al Hasan and Sohag Gazi took one wicket apiece.
In reply, Bangladesh Captain Mushfiqur Rahim scored 79 while opener Anamul Haque contributed 42.
Sachitra Senanayeke, Thisara Perera, Ajantha Mendis and Lasith Malinga ended with two wickets apiece.
Scoreboard Thursday after Sri Lanka defeated Bangladesh in the second one-day International at Mirpur's Sher-e-Bangla National Cricket Stadium:
Sri Lanka Innings:
Kusal Perera c Shamsur Rahman b Rubel Hossain 8
Tilkaratne Dilshan c Mushfiqur Rahim b Rubel Hossain 8
Kumar Sangakkara c Mahmudullah b Arafat Sunny 128
Dinesh Chandimal c Shamsur Rahman b Sohag Gazi 9
Ashan Priyanjan lbw Shakib Al Hasan 60
Angelo Mathews not out 56
Thisara Perera c Mahmudullah b Rubel Hossain 0
Kithuruwan Vithanage not out 13
Extras: (3lb, 4w) 7.
TOTAL: (six wickets) 289.
Overs: 50.
Fall of wickets: 1-9, 2-38, 3-63, 4-177, 5-260, 6-262.
Did not bat: Sachitra Senanayeke , Ajantha Mendis, Lasith Malinga.
Bowling: Mashrafe Bin Mortaza 8-0-52-0 (1w), Rubel Hossain 10-0-76-3 (1w), Sohag Gazi 10-0-50-1, Shakib Al Hasan 10-1-46-1 (2w), Arafat Sunny 8-1-44-1, Mahmudullah 3-0-11-0, Mominul Haque 1-0-7-0.
Bangladesh Innings
Anamul Haque lbw Thisara Perera 42
Shamsur Rahman c Senanayeke b Malinga 0
Mominul Haque c Sangakkara b Senanayeke 15
Mushfiqur Rahim c Senanayeke b Malinga 79
Shakib Al Hasan c Senanayeke b Priyanjan 24
Nasir Hossain c Vithanage b Mendis 22
Mahmudullah run out 1
Sohag Gazi c Sangakkara b Perera 7
Mashrafe Bin Mortaza c Perera b Mendis 17
Arafat Sunny not out 1
Rubel Hossain c Perera b Senanayeke 6
Extras: (3b, 3lb, 7w, 1nb) 14.
TOTAL: (all out) 224.
Overs: 43.
Fall of wickets: 1-2, 2-57, 3-63, 4-116, 5-153, 6-155, 7-170, 8-217, 9-220, 10-228.
Bowling: Lasith Malinga 8-2-45-2 ( 3w,1nb), Angelo Mathews 8-1-44-0, Sachitra Senanayeke 8-0-33-2 (1w), Thisara Perera 6-0-40-2 (3w), Ajantha Mendis 8-0-43-2, Ashan Priyanjan 5-0-17-1.
Umpires: Anisur Rahman, Bangladesh, and Rod Tucker, Australia.
TV umpire: : Sharfuddoula, Bangladesh.
Match Referee: David Boon, Australia.