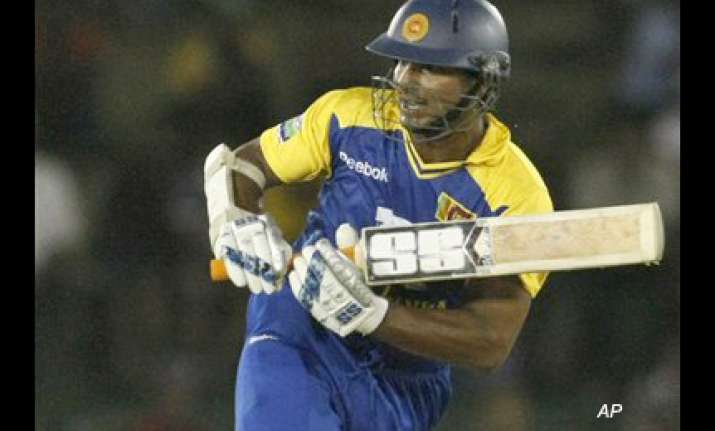 Dambulla (Sri Lanka):India might have been robbed off valuable practice ahead of their second tri-series match, but Sri Lankan skipper Kumar Sangakkara does not feel that the visitors will be under prepared for tomorrow's game and his side is wary of their sub-continental neighbours. India's Saturday practice session was reduced to a mere fielding drill as the visiting team preferred not to have any batting practice due to poor pitches.  
An angry M S Dhoni had walked out of the session after finding the practice pitches damp and full of grass and
Dinesh Karthik
injured his thumb.  
"I don't think India are going into tomorrow's match unprepared. Sides don't practice one day, it doesn't mean you aren't prepared. We would like to practice properly every day but preparation is something sides do very differently," Sangakkara said at the pre-match press conference today. "It will depend on what they are thinking about and the Indian team know that they are a good side.
"In ODI and T20 cricket, it doesn't matter what you have done even the day before. If you come in and perform well the next day, you can still win. So we know how dangerous India is. We know what we have got to do, so we will try and do our disciplines better than India hopefully tomorrow," he added. Sangakkara said despite missing pace spearhead Zaheer Khan, Indian fast bowlers have done well on the tour so far.  
"I think the Indian bowlers are all very good bowlers. It doesn't matter whether (Abhimanyu) Mithun was new. I thought he bowled exceptionally well during the Test series and he didn't do anything wrong in the first one-dayer either. "I think the fatigue got to him maybe a bit. Whatever the bowlers do, I think they will enjoy bowling on a track like this," he said.  
Sangakkara emphasised the need to rotate pacers in the wake of increasing workload and put the onus on the selectors to take decisions in this regard. The Lankan captain also said that the players have to be assured of their places when rotation policy is implemented otherwise it will create mistrust and rift in the side.  
"From team point of view, we can recommend rest to certain players, especially fast bowlers because of their load. But the final call has to come from selectors, otherwise there is too much responsibility on individual player.
"And when you have a rotational policy, I think it is important that the player has the confidence that if you are rotated out of the team, you get first choice back. It doesn't matter if your replacement scores a hundred or a double .
"I think everyone must understand that and must be convinced about merits of rotational policy. Bowlers will be rotated more often and batsmen less because you want a batsman to be always among runs," he said. PTI