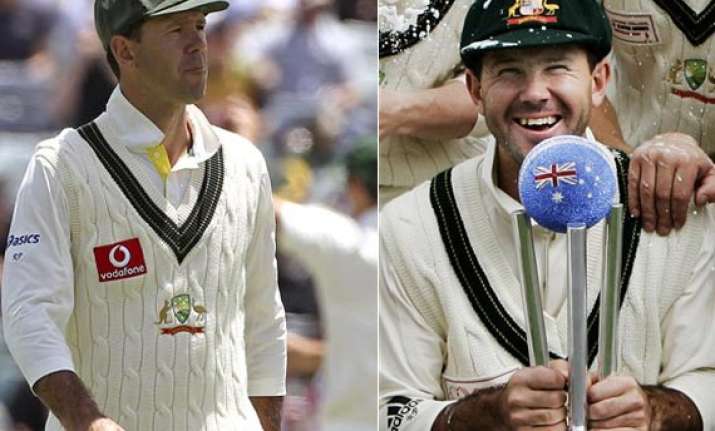 New Delhi: To assess the career graph of Ricky Ponting, one of the finest batsmen in contemporary cricket and Australia's middle order bulwark for years, will  mean a frontal review of  the performance of the Australian team  over the last 15 years. 
Statistically, Ponting is the most successful captain of all time, with 48 victories in 77 Tests between 2004 and 31 December 2010, while as a player he is also the only cricketer in history to be involved in 100 Test victories.
He is one of only three players in history to have scored 13,000 Test runs. 
Ponting is widely considered by many to be the best batsman of the modern era, along with Sachin Tendulkar and Brian Lara. 
With his retirement from international cricket, Ponting completes a cricket career spanning 20 years since his first class debut for Tasmania in November, 1992 when he was just 17 years and 337 days old - the youngest Tasmanian to play in a Sheffield Shield match. 
However, he had to wait until 1995 before making his One Day International (ODI) debut, during a quadrangular tournament in New Zealand in a match against South Africa. 
His Test debut followed shortly after, when selected for the first Test of the 1995 home series against Sri Lanka in Perth, in which he scored 96. 
He lost his place in the national team several times in the period before early-1999, due to lack of form and discipline, before becoming One Day International captain in early-2002 and Test captain in early-2004.
He is a specialist right-handed batsman, slips and close catching fielder, as well as a very occasional bowler. 
He represents the Tasmanian Tigers in Australian domestic cricket, the Hobart Hurricanes in the Big Bash League, and played in the Indian Premier League with the Kolkata Knight Riders in 2008. 
On 1 December 2006, he reached the highest rating achieved by a Test batsman in the last 50 years.
After being involved in over 160 Tests and 370 ODIs, Ponting is Australia's leading run-scorer in Test and ODI cricket.
His international career will now wind down at the same ground where it began against Sri Lanka.
Ponting was named ICC Player of the Year twice, in 2006 and '07, the international body's Test player of the year three times - in 2003, '04 and '06 - won the Allan Border Medal in 2004, '06, '07 and '09 and as well as being the Wisden Cricketer of the Year in 2006 was also CricInfo's Player of the Decade for 2000-09.
Ponting passes on a rich legacy to Clarke and the latter has done brilliantly well so far. Like Ponting, Clarke has responded to the leadership role with prolific run-making. 
However, unlike Ponting he has to build the side and get them back to the top. Ponting's example shows that the best way one can inspire a side is to lead from the front and Clarke is doing just that.
The stage is set for Ponting at Perth to get that big knock and sign off with a flourish. It would be the perfect way to go as he missed it out on that special hundred on his debut.