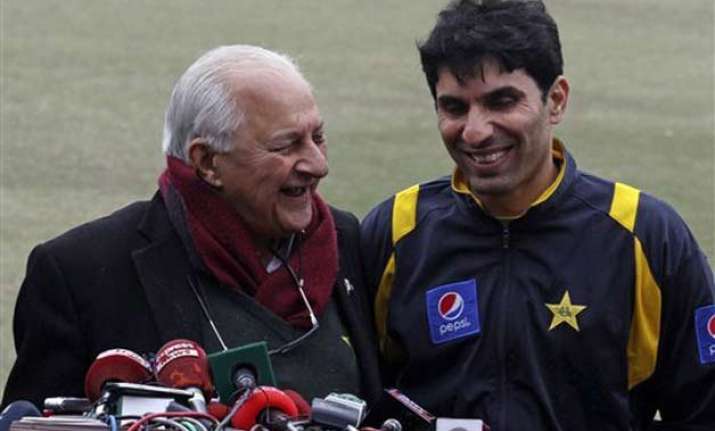 Islamabad: Captain Misbah-ul-Haq's decision to retire from limited-overs cricket after the World Cup next month has given him extra motivation to capture the trophy Pakistan last won 23 years ago.
The 40-year-old Misbah informed Pakistan Cricket Board chairman Shaharyar Khan this month that he will quit one-day internationals after leading the team in the tournament in Australia and New Zealand, but will continue to be the test captain.
"It's (retirement) a motivation for me," Misbah said in Lahore on Tuesday as Pakistan gathered for a six-day training camp at Gaddafi Stadium.
"I want to deliver my best over the next two months and wish, as a team, we peak like we did in 1992."
Pakistan defeated England in the 1992 final at the Melbourne Cricket Ground for its only World Cup victory.
Misbah took over the ODI captaincy after the 2011 World Cup from Shahid Afridi, who will also retire after this World Cup but wants to continue as the Twenty20 skipper.
While Misbah has been a respected leader - 41 wins in 78 ODIs as captain - he has been criticized for years for his slow batting. He averages nearly 43 in 153 ODIs since his debut in 2002, and has yet to score a century.
"It's more because of luck than anything else," Misbah said of missing a hundred in ODIs. "I always try to bat according to the requirement of the team, and if I score a zero and the team wins it's more important for me."
Poor form last year made him question his selection in the side, but the PCB backed him. He missed the last three ODIs against New Zealand in the Emirates late last year due to a hamstring injury, but said that had nothing to do with retiring from ODIs.
"Some people might be thinking that I have no confidence in me ... they suspect that I will be dropped after the World Cup or removed as a captain, but it's not like that," he said.
"I have always played cricket with a positive attitude. I have taken every series as a challenge, and I am going to the World Cup with a positive mindset.
"In cricketing terms, it (retirement) was a difficult decision for me because to me cricket is above everything.
"It's not easy to leave a game you have played with so much passion for almost 20 years, but you have to take your own decision, and I am happy that I have taken the decision."
When asked who he think should lead Pakistan in ODIs after the World Cup, Misbah said it was not the right time to give names, though he had given his feedback to the PCB chairman.
"I don't want to dishearten any player by naming a specific player for the captaincy," Misbah said.
"There are guys in the team who are sensible and understand cricket and can take Pakistan cricket forward. I have given my input to the PCB, and they are the judge of who is capable."
Khan said the PCB didn't put any pressure on Misbah to quit the captaincy, but he respected him and Afridi for announcing their retirements before the World Cup.
"It's sad for us that such a talented captain and such a reputed human being will not play one-day internationals after the World Cup, but the good thing is he is ready to play test cricket," Khan said.
"You won't find better than Misbah. He has taken criticism on the chin and he is a star of Pakistan cricket."