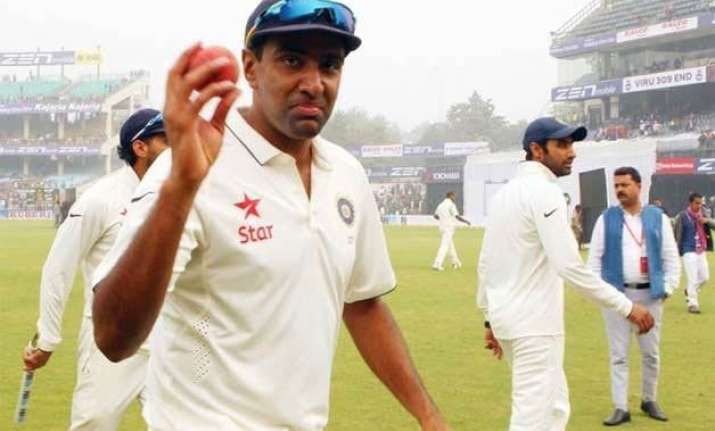 Melbourne: Indian off-spinner Ravichandran Ashwin on Thursday said he is not intimidated by the Australian batsmen's strategy of attacking him as he has the ability to handle the onslaught and pick wickets as well. "I think it's been a batsmen's tournament, so you've got to stick to your basics and hope that you put the balls in the right place.
When I came back I was pretty confident, I had my plans in place and I also had the extra fielder outside the circle, which was a big advantage," said Ashwin ahead of the second T20I. Ashwin felt he had the skills to come out on top when asked about Aaron Finch's attempted charge against him in the first T20I.
"…if they have a license, I have a license to pick up wickets too. And it's not like their off-spinner has gone very kindly, he's gone for 80 runs in all the games, that's the way the series is.
"It's not about an off-spinner; I think everybody has gone for runs. You can target a bowler or not, it's just a game-plan. And if that is their game-plan I'm more than happy for them to continue doing it. I think I have enough abilities to try and come out on top of it," he explained.
Ashwin returned after a break of three games in Adelaide, and he opened the bowling with Ashish Nehra. Later, he returned to bowl in tandem with Ravindra Jadeja, and helped script India's win with figures of two for 28.
"I think in the first over I bowled well (in Adelaide), there wasn't anything wrong with the way I bowled, it's just that I went for runs. Throughout the ODI series, be it Nathan Lyon or Kane Richardson, they have gone for 70 runs or more than that. So it's about picking up wickets and having the confidence to bowl the good ball again and again," he said.
On whether he felt disappointed after he was left out of the playing XI during the ODI series, Ashwin felt it was not an unfair call.
"The reason I didn't play was because I didn't win a game for India. If India had won, I would have played, as simple as that…the fact that I went for 70 runs, and then went for 60 runs, I had to sit out, and I think it's fair enough because you have to play the right combination. As far as I'm concerned I can just work that bit harder and keep going hard at it," he explained.
India lost the ODI series 1-4. However, they did win the last ODI in Sydney and then the first T20 in Adelaide. With back-to-back wins they have finally managed to put pressure on Australia for the first time in this series.
"We probably haven't assessed the par scores well enough.
In the past, 300 or even 260 has been a winning score when we came in 2011-12 for an ODI series here. I thought we did pretty well to post 310-320. I just think the par scores were somewhere in the 330s. And as you saw in the last games, in Canberra and Sydney, I think we would have achieved 350s. And the wickets have obviously gone flatter.
"Even when South Africa came here last time, I think they achieved 310s and 320s pretty easily. So it was just a question of not calculating the par score properly," said Ashwin looking back at the ODIs.
Asked if the youngsters coming in had made a definitive impact on the squad's morale, he said: "It's always fun to have new people coming into the team because you try to get to understand them better. They come out with a lot of confidence, they have no expectations riding on them, they come out and express themselves.
"When new people come in, it's always interesting to watch how they go about their business. At the same time it's also very important to allow them to express. I think our dressing room environment is very good, and whoever has come in so far in the series has been able to go on about their business without any pressure."
The tour has relatively gone without any flare-ups considering the heated exchanges in the bilateral series last season. Although there have been the odd moments, particularly the one in the first match at Adelaide between Virat Kohli and Steve Smith in the wake of the latter's dismissal.
"It's probably a personal battle between them. I think both of them are very good competitors. They know what they are doing, and they don't go down without a fight. It's good to have such competition on the field. Both of them are champion cricketers, and I think it just adds to the spice of the game a little bit, so I don't mind it at all."
Talking about Kohli's super run of form on this tour, he said: "The way he bats, the amount of confidence he exudes on his fellow players, and the way he comes out and expresses himself, obviously that comes with the amount of performance you give on the field.
"At the end of the day, what confidence you have as an individual is how you express yourself on the field. He is someone who always leads from the front and we don't expect anything short of that from him too. If he fails, I think he's still someone who will pick everyone up."
Ashwin also spoke about getting more comfortable with the conditions as the series went on but added that they had played good cricket despite what the ODIs scoreline says.
"I think now we feel a lot more comfortable coming here.
It is great competition, the players come hard at us and we do quite enjoy it. But how many times we come back here, we need to adapt to different situations. We end up playing some cricket in India, go somewhere else and then come to Australia. So it takes a bit of time, and this tour was especially challenging because we landed in Perth, then had to adjust to different time zones going to Brisbane then Melbourne, so it took another week or so for us to completely get over jet lag.
"These are the challenges an international cricketer faces, and coming to Australia has always been very challenging and we enjoy it.
"We have played wonderful cricket. As I said, there has been a miscalculation of 20-30 runs and the margin has been one over, so that tells you what kind of cricket we have played. We have been able to match them at every aspect of the game. It's very unfair to say how the tour has gone and who has done better, I don't think that is right," Ashwin signed off.