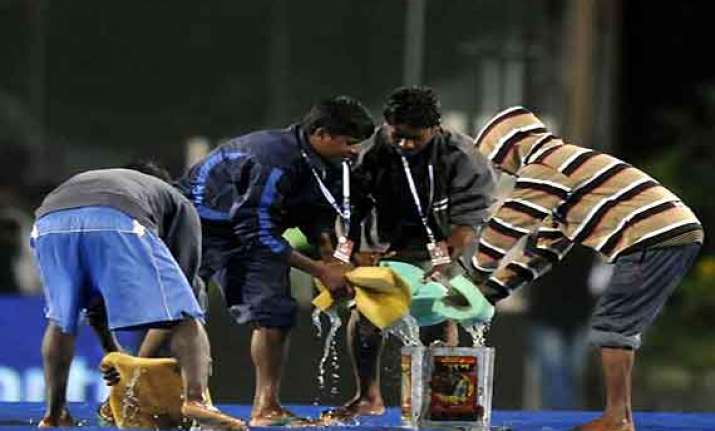 Cuttack: Fear of another washout looms large as India take on Australia in the fifth ODI here tomorrow, faced with the challenge of winning the remaining three games to clinch the seven-match bilateral cricket series.
The visitors held on to the 2-1 lead as rain had the final say in the fourth ODI in Ranchi and it could well be a similar result tomorrow given the bad weather.
The ground reality here is in fact grimmer due to torrential rains for the last four days following the formation of a low-pressure area in the the Andhra-Telengana region. The Met department has forecast more showers in the next couple of days.
The pitches in the centre are under a three-layer cover with certain patches in the ground still damp and water-logged to deny both the teams practice on the eve of the match.
The groundsmen were the ones in action working overtime to make the stadium ready as hosts Odisha Cricket Association were fearing a repeat of 1996, when a match between both the teams was washed out without a ball being bowled.
"It rained heavily the pitches are covered with a width of 30ft and are intact. If the rain stops today, we can get the ground ready," local curator Pankaj Patnaik said.
The OCA, which is hosting an ODI for the first time since November 29, 2011 when India won against the West Indies by one wicket, has grand plans of drying up the field using choppers but more rain could hamper that.
Despite the non-stop showers for the last four days, tickets for the 45,000-capacity stadium have almost been sold out.
Starved of International cricket, the excitement was palpable in this part of the country as large number of fans gathered both at the airport and team hotel yesterday to catch glimpse of the stars.
After being thrashed 0-4 by India in the Test series earlier this year, Australia have come back strongly in the ongoing ODIs and their batsmen have shown they are not intimidated by big totals.
India's wayward bowling and fielding has only helped the visitors' cause.