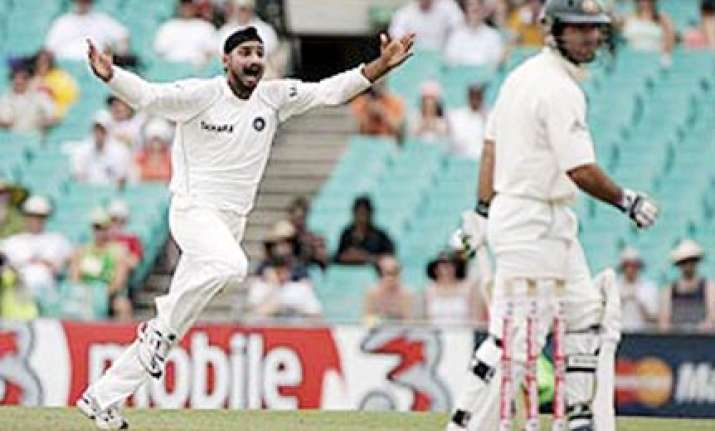 Sydney: A desperate Australian team's skipper Ricky Ponting, having failed to find a good spinner, is so impressed by Harbhajan that he wants Hauritz to be a clone!
Ponting wants his ace off spinner Nathan Hauritz to bowl more like Indian rival Harbhajan Singh.
Ponting had sidelined Hauritz during the nail biting final stages of the Mohali Test against India, and gave chances to part timers Marcus North and Shane Watson instead, in a bid to do something different in his quest for victory.
Hauritz revealed that he was directed to bowl with angles mirroring Harbhajan in the first Test in Mohali, and that because it didn't work, he wanted to revert to his traditional style today in Bangalore.
Ponting said he had asked Hauritz to change because his traditional plans weren't working.
"I'm the one who asked him to try some different things, and they're things I asked him to work on about 18 months ago," The Sydney Morning Herald quoted him, as saying.
"When he first came back into the side in South Africa, I worked with him long and hard, trying to get him to create different angles for a batter, and that's talking through a batsman's eyes and what I've always found hard about facing off-spinners," he said.
"If you look at angles Nathan creates and the shape of the ball compared to what Harbhajan does, it's chalk and cheese. What I was trying to get him to do by bowling wider at the crease was to get the ball into the rough areas a bit more," Ponting said.
"From where he was bowling from, it was almost impossible for him to land the ball in the footmarks. I think it's important we keep trying to work with him on those things. You have to have more than one string in your bow now in international cricket, particularly if you're an off-spinner," he added.
Hauritz is not entirely convinced with his skipper. "Cricket is supposed to be a very simple game and I tried to make it more complicated," he said.