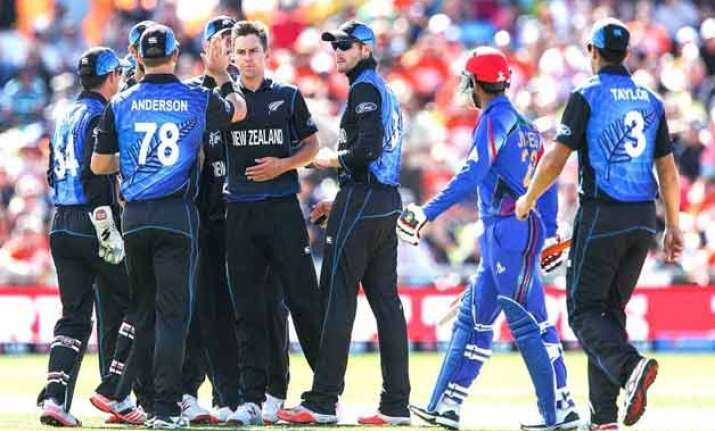 Wellington: Three cricketing greats -- Ricky Ponting, Ian Botham and Viv Richards -- have voiced their support for the New Zealand team who they believe can clinch this year's World Cup trophy.
New Zealand's performances so far in the tournament has seen them tipped as one of the genuine contenders.
Ponting, who led Australia to lay hands on the coveted trophy in 2003 and 2007, said the chances of the Black Caps have increased immeasurably since bringing in Brendon McCullum as captain, reports the New Zealand Herald.
"I think they've come a long way since Brendon's taken over. They seem like a more confident, aggressive-natured team as well than probably they were before."
"Anyone who knows Brendon knows what he's like as a character. So, his leadership is starting to rub off on the rest on the team," he said.
Ponting praised the balance of the Black Caps side saying beating them at home will be quite difficult.
"They're probably the best balanced New Zealand team I can remember in a long time and their record at home, as we all know, is very good. They very rarely lose games or series in New Zealand, so they're in good shape right now.
Botham was another who viewed the Black Caps as favourites, saying they would at least make the final of the quadrennial event.
"I think their big test will come in the final. I expect them to make the final...probably against Australia, which I think will be the real test, but I don't see why they can't go on and win it," said Botham.
Former West Indies batting superstar Richards believes New Zealand are a side who, with the form that they are in, might just go through the tournament unbeaten and win the elusive World Cup trophy.
"(They've been playing) too well. I've always felt, when you are in the preliminary rounds, it's always important to have a little hiccup here and there to get back on the right track," Richards, who was part of the World Cup winning side in 1975 and 1979, said.
"But keep your fingers crossed. At the moment, the more you play and the more you win. That also helps to create confidence, so you can go and have a clean sweep as well."