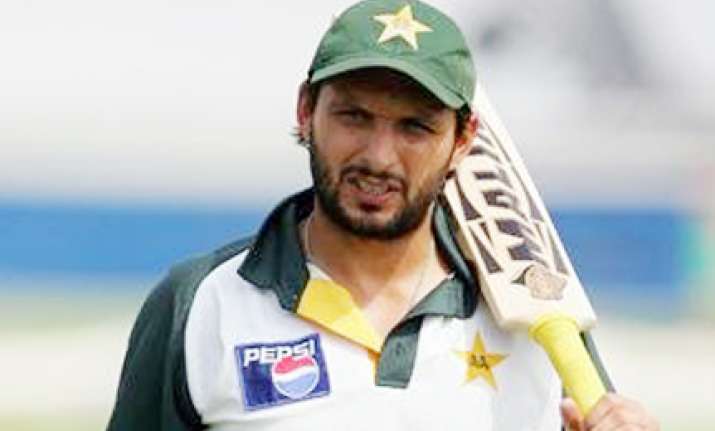 With the stalemate between the Pakistan Cricket Board (PCB) and captain Younus Khan, who resigned from the post earlier this week, continuing, sources privy to the board have revealed that it may ask vice captain Shahid Afridi to take charge of the national squad. 
Sources inside the PCB said Shahid Afridi might be handed over the captaincy ahead of the one-day series against New Zealand, which would be played in the United Arab Emirates (UAE) next month. 
When asked about the speculations, Afridi clarified that the PCB has not offered him captaincy of the one-day squad yet. 
Afridi said he is ready to accept the challenge to serve his country, but added that he hopes things will soon be sorted out between the board and Younus Khan. 
"Naturally as the vice-captain, you have to be ready to lead your team if the need arises. But I hope that things will be sorted out (with Younus) because he is like a brother to me," 'The News' quoted Afridi, as saying. 
Speculations regarding Afridi being appointed as the captain of the national team gained further momentum when Khan did not attend the 'debriefing session' of the ICC Champions Trophy 2009 that took place at the Pakistan Cricket Board headquarters at the Gaddafi Stadium. 
Younus has already made it clear that he would take back his resignation only after the PCB extends his tenure till the 2011 World Cup, and gives him more powers as the skipper of the national squad. 
During a meeting with PCB chief Ijaz Butt, Khan said he would roll back his resignation only if the board gives him a guarantee that he would not be sacked from captaincy until the 2011 World Cup. 
Younus also stressed that he wanted more powers as a captain of the national team to ensure better results. 
According to sources, Khan wants Butt to give the team management and the players a clear message that the Board will continue backing him as captain even in difficult times. 
"What Younus wants is an end to all this uncertainty. He wants the players and the officials to know that he is their captain for at least the next two years so that they can stop conspiring against him," sources said. 
Khan had tendered his resignation on Tuesday during a National Assembly Standing Committee on Sports hearing that was held to discuss the performance of the squad in the recently concluded ICC Champions Trophy in South Africa. 
The PCB, however, later rejected his resignation, but not before the game's image was tarnished in the country yet again.