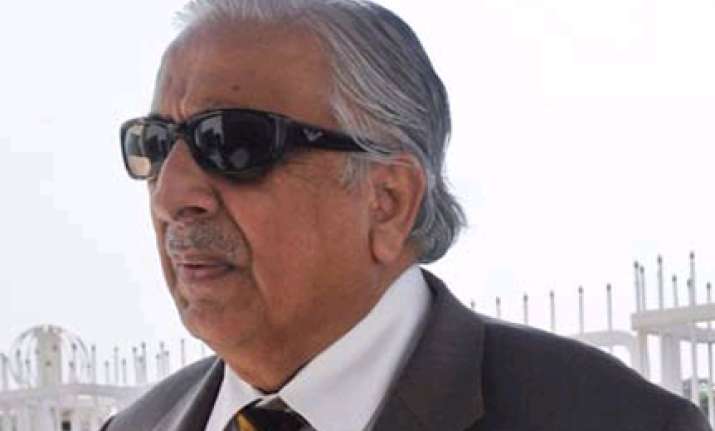 Pakistan Cricket Board chairman Ejaz Butt is visiting India next week reportedly to hold talks with Indian cricket officials for a  bilateral one-day series at a neutral venue next year. 
Butt confirmed on Thursday he would hold meetings with the Pakistan High Commissioner in New Delhi and meet Indian board and government officials there, but refused to divulge the details. 
"I don't want to go into the details of this visit and I will give details when I return home," Butt said. 
Sources close to Butt indicated that the visit was linked to attempts by Pakistan to convince the Indian board and International Cricket Council to arrange a bilateral one-day series at a neutral venue next year. 
He is also expected to discuss with the Indian Cricket Board officials the Future Tours Programme and Pakistani players' participation in the Indian Premier League. 
"It is no secret that the PCB is keen to play a short bilateral series with India even at a neutral venue and has also sought the cooperation of the ICC in this regard," a source said. 
He said Butt's meeting with Pakistan High Commissioner and Indian board officials could also be linked to paving the way for Pakistani players to eventually take part in the third Indian Premier League season next year. 
"Pakistani players are keen to take part in the lucrative IPL next year after having missed out on the opportunity this year. The Indian board will have to seek clearance from its government to play Pakistan in a bilateral series at a neutral venue or allow Pakistani players to take part in the IPL," the source added. 
Butt also confirmed that China had offered to host the next Asia Cup and for this purpose was preparing an international standard ground. 
"China is keen to play host and it is an exciting prospect for Asian cricket," he said. 
Malaysia was initially picked as the venue for the next Asia Cup at the last Asian Cricket Council meeting. 
Sources said Butt could also utilise his visit to hold talks with the Indian officials about the possibility of having the tournament in China. PTI