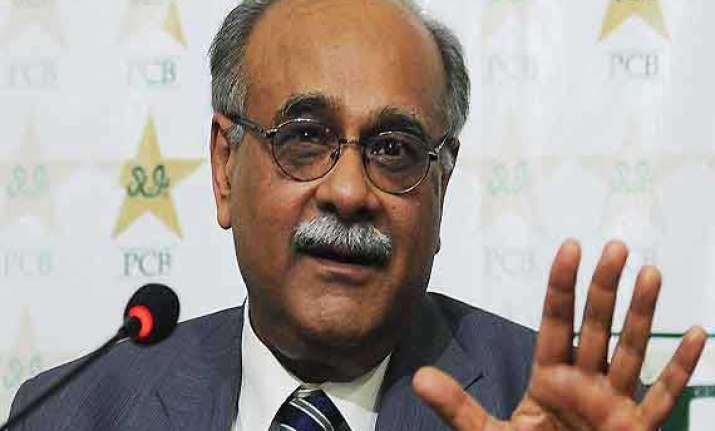 Lahore: Pakistan Cricket Board (PCB) chairman Najam Sethi is meeting head coach Moin Khan, captain Mohammad Hafeez and chief cricket consultant Zaheer Abbas Thursday to hear them out the reasons for the team's failure to make the semi-finals of the World Twenty20 tournament.
Sethi picked Moin as head coach from a shortlist submitted to him by a panel, which had Javed Miandad and Wasim Akram as members. Former Test captain and coach Waqar Younis is the other name the committee recommended, Dawn reported.
Sethi had also appointed former cricket great Zaheer Abbas as the chief cricket consultant.
Sethi Wednesday had discussions with domestic cricket director Intikhab Alam, National Cricket Academy head Haroon-ur-Rashid, former chief selector Azhar Khan and chief operating officer Subhan Ahmad to elicit their views about the team's performance.
"In Wednesday's meeting with Intikhab, Haroon, Azhar and Subhan, the chairman discussed the performance of the team in the World T20 and got a briefing to ascertain the causes of defeat, fixation of responsibility and future course of action," the daily quoted a PCB spokesman as saying.
"The chairman has also invited Moin, Hafeez and Zaheer to discuss the reasons," he said.
The overall performance of Pakistan in the World T20 remained below par as Australia were the only prominent team which it had managed to defeat while losing to India and the West Indies.
Sethi has tweeted that he would make all who were responsible for the defeat accountable, though he stated that the team was ranked fifth in the T20 format.
The spokesman also reminded fans that the team had defeated India in an Asia Cup match.
This is the first time that 2009 champions Pakistan could not reach the semi-finals of the World T20, falling to an 84-run defeat to defending champions West Indies.