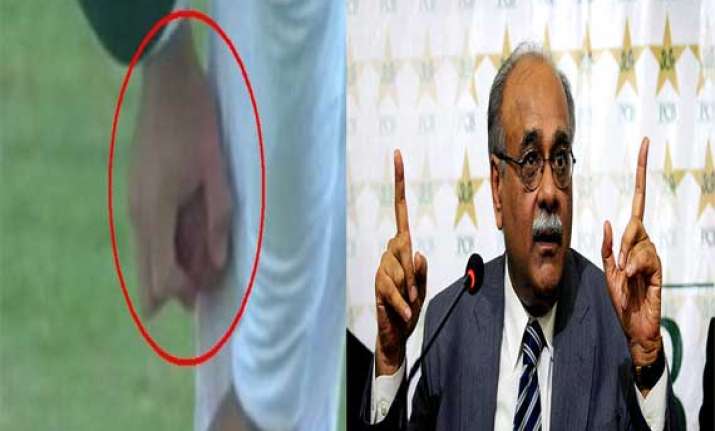 Dubai: Pakistan cricket officials are angry over the second Test ball-tampering row which saw South Africa's Faf Du Plessis getting away with just a small fine and thinking of lodging protest with ICC.
Pakista officials say punishment would have been more severe had a sub-continent player been involved.
Du Plessis was fined 50 per cent of his match fee after admitting tampering with the ball during the third day of the second Test on Friday.
South Africa, who won by an innings and 92 runs on Saturday to level the two-match series 1-1, were also penalised for five runs.
Pakistan Cricket Board (PCB) chairman Najam Sethi said he will protest the fine with the International Cricket Council (ICC).
"The PCB is writing a letter to the ICC seeking an explanation of the inconsistency by the match referee in application of the ball-tampering rule to Afridi vs Faf," tweeted Sethi.
He was referring to Pakistan all-rounder Shahid Afridi's ban for the same offence in Australia in 2010.
The 29-year-old du Plessis is the first South African to be charged with ball-tampering.
Former Pakistan players also blasted the game's governing body for taking what they saw as overly lenient action against du Plessis, who was spotted rubbing the ball to a zip on his trousers.
"I am surprised at the decision," former Pakistan paceman Shoaib Akhtar said.
Akhtar, who was banned for two one-dayers and fined 75 per cent of his match fee for tampering during a tri-series in Sri Lanka in 2003, said Pakistan have "no say" in the ICC.
"We can't raise our voice, so this will go on like this," he added.
"How can you give such a lenient decision on such hard evidence? He should have been banned for six months at least and the captain Graeme Smith should also have been punished," said former Pakistan captain Rashid Latif.
"If you look at the rules, they (ICC) ban a captain for a slow over rate but not on ball tampering done in front of the whole world."
"I am sure had it been a Pakistani or a sub-continent player he would have been banned," said Latif.
But another former captain, Aamir Sohail, believed the punishment was fair. "I don't think it's lenient," said Sohail. "The punishment is within the rules and since du Plessis did not contest the charges you have to show some leniency."
South African team manager Mohammed Moosajee said the team accepted the decision which was announced earlier in the day by match referee David Boon.
"As a team we proceeded not to contest it... because as per the ICC regulations a full hearing could lead to more severe punitive measures which could include a heftier fine or even a match ban," he said.
Pakistan captain Misbah-ul Haq said the matter was between the ICC and South Africa. "I think it has nothing to do with us," said Misbah. "It's a matter totally between match officials and their team, it's none of our business."
South African vice-captain AB de Villiers backed du Plessis on Friday, saying: "Honestly, we're not the team that scratches the ball."
"We play in a fair manner. Obviously we want to swing the ball as much as you can and try to get it to reverse. We don't cheat, it's as simple as that."