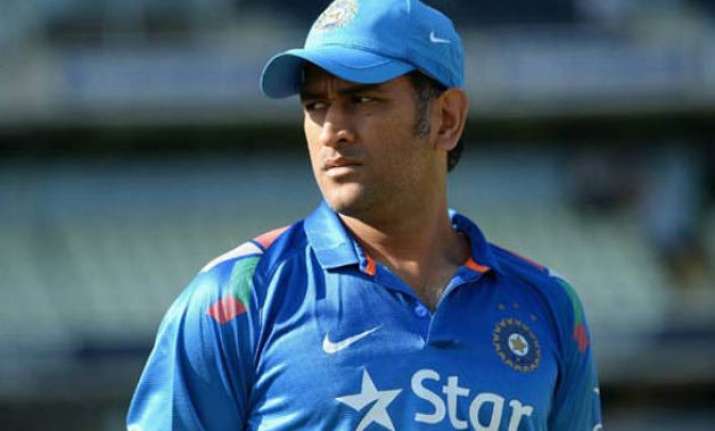 Kolkata: The abandoned Eden Gardens Twenty20 International on Thursday robbed Indian team of the opportunity to try out a new composition ahead of the ODI series against South Africa, skipper Mahendra Singh Dhoni said here.
"We wanted to make changes in the side. In fact we were supposed to make three changes, change a bit the batting order and try out different stuff. But it is sad that we did not get to play," said Dhoni after the game was called off without a ball being bowled due to a wet outfield following around half an hour of rain.
After losing earlier two games against South Africa at Dharamsala and Cuttack, India surrendered the series 0-2 and would now have to gear up for the five-match One Day International series that begins in Kanpur on October 11.
Talking about the changes,Dhoni said Ajinkya Rahane was supposed to open the innings with leggie Amit Mishra with all-rounder Stuart Binny slated to be part of the playing eleven.
He also expressed sadness at the cricket-crazy crowd being denied the joy of on-field action because of the elements. Despite the dead rubber, around 25 thousand spectators turned up at the hallowed ground to witness the match.
"This is one venue where you want come in and play you don't want to come here and not play matches, the history of the ground and also the public here is fantastic. It is sad and bit disappointing not to play over here," Dhoni said.
Indian team director Ravi Shastri seconded Dhoni as he empathised with the crowd.
"To have an abandonement here is the most disappointing because of the crowd. These are circumstances not in your control. It depends on the umpires, they know that there is a long series coming up."
Former Indian skipper Sourav Ganguly -- slated to take over as Cricket Association of Bengal president a week later -- said organsing the match was a collective responsibility and the groundsmen should not be blamed for the game being a non-starter.
"When we are hosting an international match, everyone gets involved, and it becomes a collective responsibility. So, why blame the groundsmen?" said Ganguly, who led the organising efforts for the tie.
But Shastri refused to call it a "collective failure", but said the authorities all over the country should give due importance to putting in place proper drainage systems in the grounds.
"I won't say it is a collective failure, As years go by, upgradation of the grounds will happen all around the country. We will be playing cricket at times of the year when it will be raining, and the drainage has to be given importance."
South African T20 skipper Faf du Plesis also expressed disappointment over the game being abandoned.
However, pitch curator Prabir Mukherjee said the ground was playable.
"I think the ground was playable,. But in the end it was the umpires' decision," said the 84 year old.