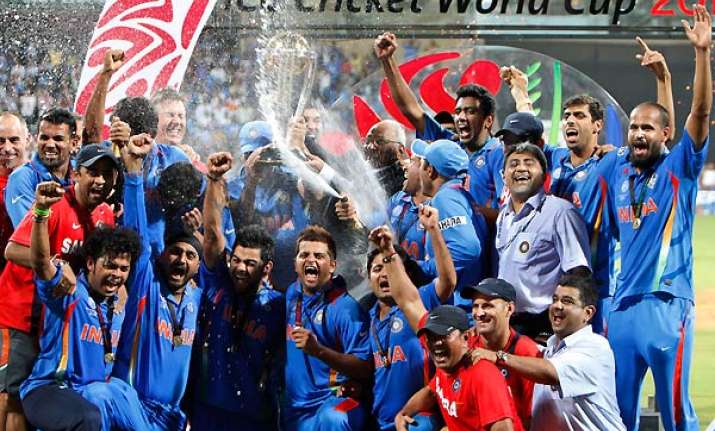 Mumbai, Apr 3:
It was not a long, wild and boisterous celebrations for the Indian team—more an emotional one where families of some of the players were also present.
Moments after captain Mahendra Singh Dhoni brought about the winning runs, emotional and poignant scenes unfolded at the renovated Wankhede Stadium here as the players hugged each other and picked up the stumps as souvenir to cherish the unforgettable moment.
After the lap of honour and the Cup presentation ceremony in front of a delirious capacity crowd, the celebrations were confined to the dressing room where Champagne bottles were uncorked and all the players were drenched.
Apart from hugging each other and exchanging pleasantries, the tired players had dinner and drank Champagne at the dressing room. But there was no celebrations at the team hotel.
"There were no special celebrations at the team hotel since it was too crowded. The players went into their rooms," Team Manager Ranjib Biswal told PTI.
Biswal said most of the celebrations were done at the stadium itself.
"It was a highly emotional moment for the players. It was something they have worked so hard to achieve. So it was very special for all them.
"In the dressing room, there were many players with tears in their eyes. They were so happy. They hugged each other as they cherished the moment. There was plenty of Champagne. They also took photographs," he said.
The families of Dhoni, star batsman Sachin Tendulkar and Virender Sehwag also joined the team at the dressing room for the celebrations.
The team left the stadium at around 1 am and there was a huge crowd outside the main gate of the Wankhede Stadium.
As the bus passed by, there was a huge roar as the cricket-crazy fans danced in joy and even took photographs of the players as they acknowledged the cheers.
Many of the players had booked tickets to fly out of Mumbai by this afternoon, but the Cricket Board has asked them to stay back to attend President Pratibha Patil's tea party in the evening.
"Many of the players wanted to go back home and had their tickets done, but we asked them to stay back for the tea party," a BCCI source said.
The team members will disperse for their respective cities after the tea party at Raj Bhavan.
India began its World Cup campaign on a scrappy note, but peaked at the right time to beat Sri Lanka in the final.
Immediately after the winning runs were scored, the players, many of them with moist eyes, ran onto the ground to hug Dhoni and Yuvraj Singh, the two batsmen who were at the middle.
It was then time for the victory lap and in a touching gesture, younger members like
Virat Kohli
and
Suresh Raina
carried Tendulkar on their back as they took a lap of honour.
Yusuf Pathan and S Sreesanth then took turns in carrying the maestro.
At the presentation ceremony, all the players were presented with a medal and the loudest cheer was reserved for Tendulkar, the World Cup being the only silverware missing from his collection though he had featured in five editions in the past. PTI