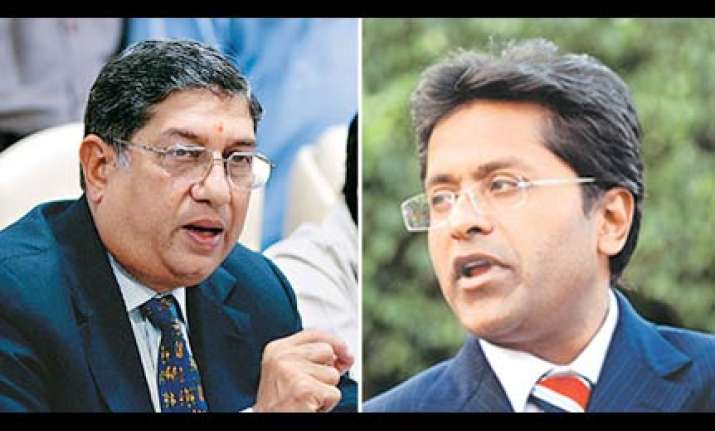 NEW DELHI: No final decision will be taken on Lalit Modi's case in next week's BCCI Special General Body Meeting, which will only decide whether to refer the suspended IPL commissioner's fate to the Disciplinary Committee, Board secretary N Srinivasan said.  
Srinivasan said the SGM on Saturday would decide whether to approve his observation that Modi's reply to the three show cause notices served on him mainly on charges of financial irregularities was "unacceptable".
And if his observation is ratified, Srinivasan said, the SGM would reconstitute the Disciplinary Committee from which BCCI president Shashank Manohar has recused himself as requested by Modi.  
"...there are two items (on agenda for the meeting), and one is to ratify the action of secretary in referring this to the Disciplinary Committee. In which case we would re-constitute the disciplinary committee from which Mr Manohar recused himself," Srinivasan said.  
"The general body is going to decide my action in referring it to the Disciplinary Committee. If they approve then the Disciplinary Committee would be re-constituted because Mr Manohar has recused himself so I don't understand what is being said," Srinivasan told a TV news channel.  
Interim IPL chief Chirayu Amin and BCCI vice-president Arun Jaitley are the two other members of the Disciplinary Committee.  
Explaining the process, the BCCI secretary said, "Our procedure is that if the members in the general meeting approve or ratify the decision I took, then the Disciplinary Committee would be reconstituted and then they would hold a hearing and follow due process and then their report would again come to the general body. This is the process we follow," he said.  
Srinivasan also dismissed allegations of being biased against Modi, who had accused the BCCI secretary -- who also owns the Chennai Super Kings team -- of having conflict of interest and acting out of malice against the suspended IPL chief.  
"I have no prejudices at all and I believe that I acted very fairly," said Srinivasan.  
"Even till today I have never discussed anything and even today I refuse to discuss any further the fact of the return of the money. Other then that I've not said anything else," Srinivasan said.  
Modi has demanded that Srinivasan be kept out of the disciplinary proceedings against him, accusing the BCCI secretary of being biased against him.  
Srinivasan, who is not part of the Disciplinary Committee, said he was bound by the Board's constitution to discharge his duties as the BCCI secretary.  
"Mr Manohar has recused himself and as per our board constitution when a show cause notice is issued, the decision on the reply is made by the secretary and there is nobody else to do it," he said.  
"The general body will decide whether my decision is to be approved or not. So therefore how can you talk of being biased or personal feelings here because the members are going to decide?" he asked.  
Srinivasan claimed Modi had kept the Board in dark about financial transactions including the Rs 425 crore facilitation fee that World Sports Group got in the TV rights deal with MSM. PTI