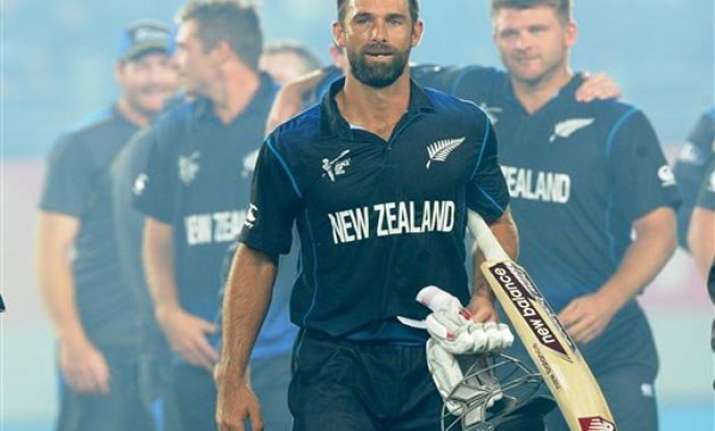 Auckland, New Zealand: For the New Zealand cricket team, preparations for its first-ever World Cup final in Melbourne on Sunday can wait a day.
The Kiwi players and coaching staff are reluctant to let go of their extraordinary semifinal win over South Africa at Eden Park, preferring to live a little longer in the moment and enjoy the afterglow of one of New Zealand's greatest victories.
The team was due to fly to Melbourne on Wednesday to prepare for a final against either Australia or India, but only hours after the thrilling finish to their semifinal, Sunday's match seemed remote.
"I think today it is still about letting it sink in. When you achieve something as special as we have done you don't want to park it too quickly," Captain Brendon McCullum.
"You've got to allow yourself the opportunity to stop and smell the roses," he said. "Today is about enjoying that. Tomorrow we will turn out attention to the final."
McCullum and coach Mike Hesson had only a few hours' sleep before rising Wednesday and facing reporters immediately before their departure for Australia.
Hesson said he had been "pretty wired" when he returned to the team hotel in the early hours of the morning and after a low-key celebration with players' family and friends.
He said there had been an "ebb and flow" of emotion throughout Tuesday's game; optimism at times, hope at others, desperation an finally a mixture of joy and relief Grant Elliott hit the penultimate ball for six to win the match.
"There were obviously a lot of emotions throughout," Hesson said. "I never thought we would get over the line until we saw the ball disappearing.
"I don't even know where it landed. I just jumped up and carried on. It was a whole heap of emotion, a whole heap of pride in the group. You have got a group of guys that did everything for each other. To put in a performance like that last night, with a crowd like that, it was very special."
McCullum said that even he wasn't fully confident that New Zealand would win as it chased 298 runs in 43 overs of the rain-shortened match.
"Toward the end I just started hoping," he said. "I had immense faith in them but there is still always that unknown.
"It took something special for us to get across the line and Grant was the man to do it."
Hesson said he was sitting apart from other members of the Black Caps coaching staff through the tense final overs, but no-one wanted to move lest they jinx the New Zealand run chase.
"We were keeping in touch on walkie-talkie," Hesson said. "When the game gets tight you don't want to get stuck between going up and down stairs, you don't want to miss the action.
"There's a lot of superstition in cricket and you don't want to leave, especially at times like that. When it happened we just jumped up and hugged everyone in sight and yelled."
Elliott said New Zealand had no preference about who it would play in the final, but will closely watch the Australia-India semifinal on Thursday.
"I guess it would be quite nice to play Australia just because the game we had here (in pool play) was a close game," he said.
"We'll watch the game obviously and then see who we're going to face in the final. I think the guys are just going to be really upbeat and we'll approach it as we have every other game."