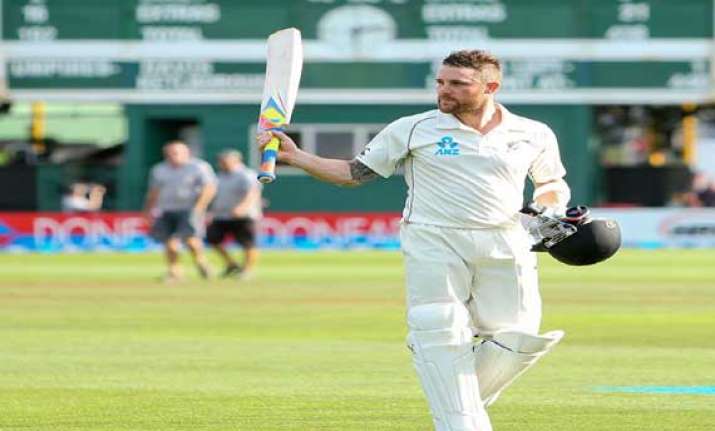 Wellington, New Zealand: Scoreboard at tea Monday on the fourth day of the second cricket test between New Zealand and India at the Basin Reserve:
New Zealand 1st Innings 192
India 1st Innings: 438
New Zealand 2nd Innings
(Overnight: 252-5)
Peter Fulton lbw b Zaheer 1
Hamish Rutherford c Dhoni b Khan 35
Kane Williamson c Dhoni b Khan 7
Tom Latham c Dhoni b Shami 29
Brendon McCullum not out 281
Corey Anderson c and b Jadeja 2
BJ Watling Lbw b Mohammed Shami 224
Jimmy Neesham not out 67
Extras (2b,9lb,2w,6nb) 19
TOTAL (For 5 wickets) 440
Overs: 158. Batting time: 669 minutes.
Fall of wickets: 1-1, 2-27, 3-52, 4-87, 5-94. 6-446
Yet to bat: Tim Southee, Neil Wagner, Trent Boult.
Bowling: Ishant Sharma 39-4-124-0, Zaheer Khan 43-12-129-3, Mohammed Shami 40-5-136-2, Ravindra Jadeja 49-10-108-1, Rohit Sharma 11-0-40-0, Virat Kohli 6-1-13-0 (1nb).Dhoni 1-0-5-0
Toss: Won by India.
Series: New Zealand leads the two-match series 1-0.