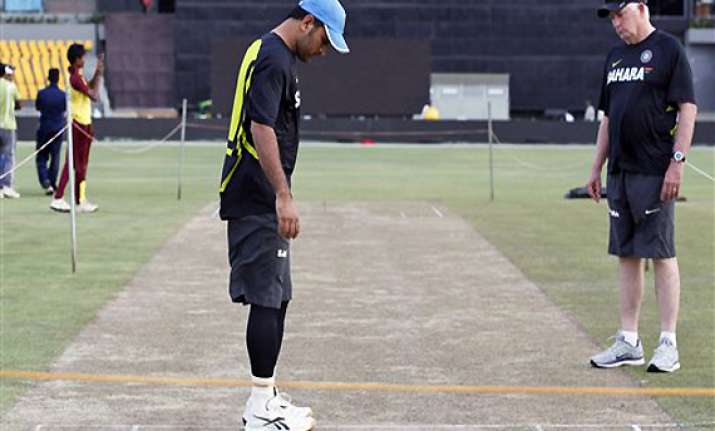 Hambantota, Jul 20: Indian captain Mahendra Singh Dhoni on Friday said adapting quickly to the conditions would be key to his team's success in the first cricket one-dayer against Sri Lanka here on Saturday.
A rejuvenated India start their new season with the first ODI of the five-match series at the Mahinda Rajapaksa International Stadium, a ground where the visitors will make their debut on Saturday.
"It's a new venue. Conditions change in the afternoon, it's quite windy out here. The strong winds can be a factor. Not only the bowlers, but the batsmen and the fielders also need to get used to the conditions," Dhoni said at the pre-match press conference.
"This is a big field. So, the fielders will have to see that batsmen do not make twos into threes which is quite normal in a one-day game.
"It's good we are practising under lights today, so we will get to know what to expect in the second innings," he added.
Dhoni acknowledged that the extended break was very helpful for his side.
"Everybody is looking fresh. Everyone is putting in a lot of effort. There is more energy. This increased energy and freshness is definitely a big plus for us," he said.
"We are mentally and physically fresh after this rest. During this break we got time to work on our fitness."
The India skipper also hinted that all-rounder Irfan Pathan might get a game on Saturday, but said picking the playing eleven would be a difficult task.
"Irfan gives us the liberty of playing with five specialist bowlers. We can play two spinners and three seamers because he can also bat. We don't have a real part-timer like Yuvraj (Singh) or (Ravindra) Jadeja, who could have given us seven or eight overs between them," Dhoni said.
"We are playing a full 50 overs game after a long time. So, we will have to be careful while selecting the playing eleven," Dhoni said.
Sri Lankan captain Mahela Jayawardene said he is looking forward to continue with the good work after the recent Test and ODI triumphs over Pakistan.
"We have just finished a series against Pakistan successfully. What is important now is to continue with the good work," he said.