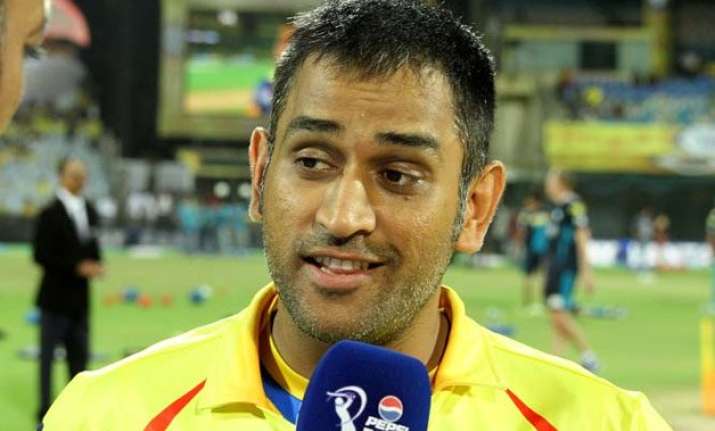 New Delhi: After 8 years serving in IPL franchise, Chennai Super Kings (CSK), speculations are rife that its skipper Mahendra Singh Dhoni may join another Indian Premier Leauge team in the next edition.
Times of India reported that since the CSK wasn't holding him back in choosing another IPL franchise.
"Dhoni will definitely feature in the IPL for a new team. There is absolutely no pressure from CSK to stop him and the next edition of the IPL will see him in action. He is the Indian captain in ODIs and T20. How can he not play in an important event like the IPL?" a source close to Dhoni was quoted as saying in the report.
This holds significance in the backdrop of India's ODI skipper recent meeting with former BCCI president N Srinivasan at latter's Chennai residence.
Srinivasan, who was earlier the owner of the IPL franchise Chennai Super Kings, had to detach himself from the Dhoni-led side due to conflict of interest.
Dhoni has captained the CSK in all eight editions of the IPL so far. The CSK, at the first IPL auction in January 2008, had bought him for the highest price of $1.5 million.
There are reports that the Board of Cricket Control in India (BCCI) may replace Chennai Super Kings and Rajasthan Royals with new franchise from Uttar Pradesh and Gujarat states in the next season of IPL.
India TV had earlier reported that the BCCI is exploring options to replace CSK and RR for the 2016 IPL season, after Lodha Committee banned both the teams.
 
The board is learned to have identified seven potential cities for these franchises on the basis of their revenue potential and infrastructure. Preliminary indications are that at least eight business groups may be interested in owning team.
Earlier, the Supreme Court-appointed committee, headed by former Chief Justice of India RM Lodha imposed a two-year ban on IPL franchises Rajasthan Royals and Chennai Super Kings. The committee found Gurunath Meiyappan and Raj Kundra guilty of betting and imposed a lifetime ban on both of them.
The committee, in its inquiry had indicted Meiyappan and Kundra for betting during IPL 8. The match fixing and betting scandal even tainted then Board of Control for Cricket in India (BCCI) president and owner of CSK franchise Narayanaswami Srinivasan.