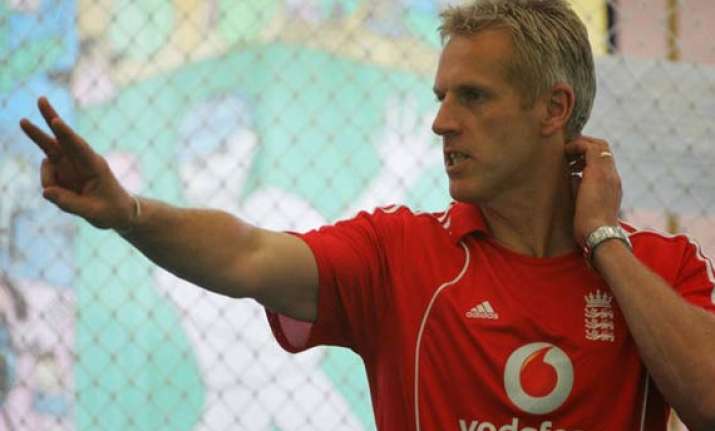 LONDON: Peter Moores was appointed as the new head coach of the England cricket team on Saturday, returning to the job he previously held for two years before getting sacked.
The 51-year-old Lancashire coach replaced Andy Flower, who lost the test coaching role following England's 5-0 loss to Australia in the Ashes series.   
It will be Moores' second spell in charge of the England team after a disappointing first stint between 2007 and 2009 during which he endured a difficult relationship with then-captain Kevin Pietersen.   
Pietersen's retirement from international cricket paved the way for Moores' return.   
"Since being England coach first time I've had five years at Lancashire," Moores said.
"Coaches have to develop and I think I've done that, and I'm looking forward to bringing that back here."   
Pietersen, who was told earlier this year that he was no longer part of the national team's plans, took to Twitter on Saturday before Moores' appointment was confirmed, writing: "Everyone deserves a 2nd chance!"   
Pietersen quit as captain in 2009 in the wake of his rift with Moores, with whom he disagreed on a wide range of issues including team selection and leadership.   
"The important point to make is I never fell out with Kevin, Kevin fell out with me.
There's a noble difference," Moores told a news conference at Lord's cricket ground. "We had a strong side over 10 years with strong leadership and established captains and coaches, and that side could accommodate Kevin, but that balance has shifted now. A new side won't accommodate Kevin. It's about the balance of what is best for England."   
England captain Alastair Cook said Moores is the right man to lead England's rebuilding process.   
"I've been in limbo over the last couple of months, since Andy Flower stepped down," Cook said. "It's going to be small steps and will take a bit of time to rebuild, but we have a huge amount of talent in the country and it's a really exciting time to be an England player."   
Moores was chosen ahead of current one-day coach Ashley Giles and three other candidates. Giles, the Ashes-winning spinner, was favorite to land the position but below-par performances at the World Twenty20 sealed his fate.   
"I would like to thank all the other candidates who made up what was an extremely impressive shortlist and in particular I would like to acknowledge the work of Ashley Giles, who has made a major contribution to cricket in England and Wales," said Paul Downton, the managing director of England Cricket.   
The new coach's first match in charge will be a one-day international against Scotland in Aberdeen on May 9, before England hosts Sri Lanka and India.