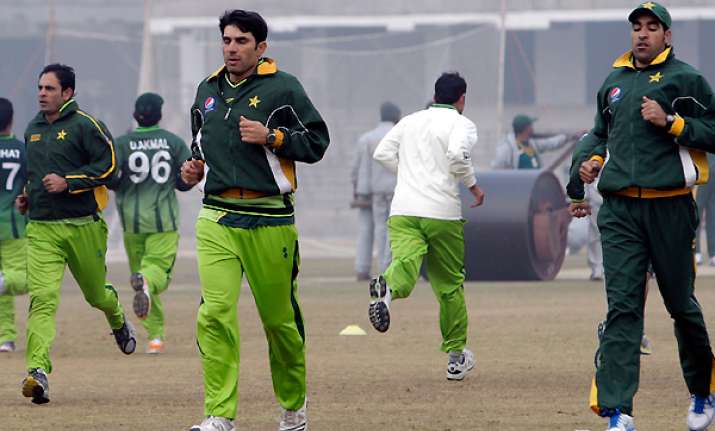 Islamabad, Jan 8: Pakistan captain Misbah-ul-Haq says the 2010 spot-fixing scandal is no longer on his players' minds and his team is focussed on its upcoming three-test series against top-ranked England in the United Arab Emirates.

Fast bowlers Mohammad Asif, Mohammad Amir and ex-captain Salman Butt were jailed in England last year for conspiring and cheating during Lord's test against England.

"Already the team has proved a lot....it's quite clear now that nobody has kept that scandal in his mind and everyone is just focussing on his cricket and will do the same in this series," Misbah told reporters.

Pakistan seems to have overcome the loss of the players to the spot-fixing scam by winning its last three test series. It also drew its test series against the West Indies soon after playing the World Cup semifinal last year.

Misbah was made captain of all the three formats of the game when Shahid Afridi quit due to his differences with former coach Waqar Younis and ex-Pakistan Cricket Board chairman Ijaz Butt after the one-day series against the West Indies.

Since then Misbah, 37, has registered victories in tests, ODIs and Twenty20s against Zimbabwe, Sri Lanka and Bangladesh.

The team also improved its test rankings by climbing to No. 5 after beating Bangladesh late last year.

Misbah said he tries to keep his approach simple for the players.

"Forget about who is your opposition ... do right what you can do," Misbah said. "Focus on your performance, do your basics right and then when you look at the results, it will come in your favor."

Dubai, Abu Dhabi and Sharjah in the UAE have become Pakistan's "home" venues since foreign teams refused to tour the country due to security concerns after gunmen attacked the Sri Lanka team bus almost three years ago.

Misbah misses playing at home.

"Playing in Pakistan is different because you have played so much cricket here that you know every wicket, every ground and you don't have that advantage (playing abroad)," he said.

"But recently we have played so much cricket in Dubai and Abu Dhabi that it's almost like a home for us, we know the conditions well and I think we have that advantage."

Pakistan recently defeated Sri Lanka in a three-test series in the UAE, but Misbah has often being criticized for taking too defensive an approach.

"If you look at the conditions in UAE, it's not only difficult for bowlers to take wickets, it's also difficult for batsman to score runs because of slow pitches where the ball doesn't come onto the bat," he said.

"It's better to win by playing defensively instead of losing by playing aggressively."

The Pakistan team leaves for Dubai on Monday where the test series against England begins from Jan. 17. It will be followed by four ODIs and three Twenty20s before the tour ends in late February.

Misbah knows only too well that England boasts four top-ranked test batsmen in Alistair Cook, Kevin Pietersen, Jonathan Trott and Ian Bell.

"England is a thoroughly professional team," he said. "We know we have to do hard work to score runs and bowlers have to bowl well to bowl them out."

While the Pakistan captain praised his batsmen Taufeeq Umar, Mohammad Hafeez, Younis Khan, Azhar Ali and Asad Shafiq for scoring consistently over the last six months, fielding still worries him.

"We do lack consistency in the fielding and there were few lapses," he said. "Against top teams you have to perform well in every department to compete."

Misbah also welcomed the use of technology in both test and one-day series against England.

"I always say that it gives both teams a chance because umpires are also human beings and sometimes they can do mistakes," he said.

"I am always in favor of this very good innovation in cricket. No doubt it needs more accuracy, but still I believe it's quite helpful for the teams."