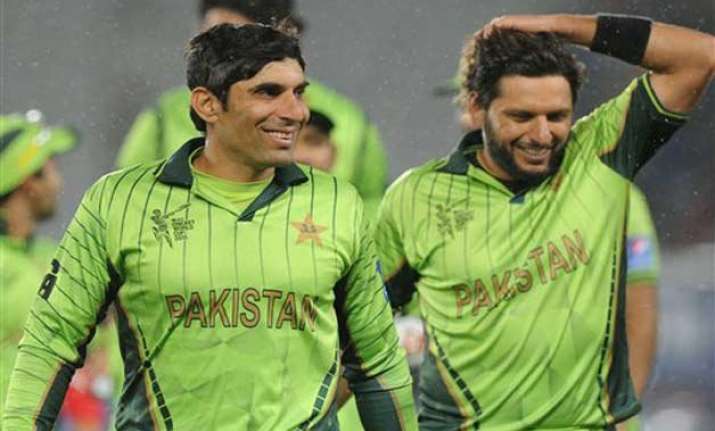 Adelaide, Australia: Much has been mentioned about the last time Pakistan and Ireland played at the World Cup, when the Irish ensured the then No. 4-ranked team went home early from the 2007 tournament.
On Saturday, a day ahead of another Pakistan-Ireland match in which the winner at Adelaide Oval will qualify for the quarterfinals, Pakistan captain Misbah-ul-Haq felt much more comfortable going back even further — to 1992 — when his country had a horrendous start and barely qualified for the elimination round before winning its only World Cup title.
The similarities this time around uncannily similar: Australia and New Zealand are co-hosting the tournament again, as was the case in 1992. Pakistan lost badly to India and West Indies that year, as they did this year.
Pakistan, in fact, also lost to South Africa in 1992 — but at least beat the South Africans this time around, continuing their tournament resurgence. Things were dire for the Pakistan lineup in 1992 when they were lucky to make it to the semifinals at all after winning only one of their first five round-robin matches.
They also got some good fortune when rain washed out a match they were almost certain to lose. England bowled out Pakistan for 74 runs and England was 24-1 in reply when the heavy showers came, washing out the match. But the point they accrued from the wash out moved them just ahead of Australia and into the semifinals, where they beat New Zealand before beating England in the final.
Misbah didn't make his one-day international debut for Pakistan until a decade after that 1992 match, but he smiled briefly at the memories of a tournament that has become part of the country's cricket folklore.
"Of course you can take some positives from that," Misbah said Saturday. "We were in a difficult situation in 1992, but Pakistan teams are used to coming back from difficult situations.
"So that could be a motivational factor for the team, but I believe it's totally different. You just can't say that because we did it in 1992 we can do it again."
Pakistan lost to archrivals India by 76 runs and then by 150 to the West Indies in its first two matches in this tournament, but has showed marked improvement with wins over Zimbabwe, the United Arab Emirates and South Africa.
Misbah has a good reason for the turnaround — opening against two tough teams doesn't help. Plus a pace bowling attack where "all our four guys are firing" would help in any turnaround.
"They were tougher opposition, and they played better cricket than us," Misbah said of the first two matches. "But since you get back into a winning situation and the confidence comes back."
Ireland captain William Porterfield also spoke of his squad's confidence levels, and how the team has been getting help from all parts of the lineup.
"We've been getting some contributions from the top order, and when they've not come through, the middle order has," Porterfield said. "Everyone has put up their hand at different stages, so hopefully that holds us in good stead tomorrow."
Porterfield, one of three current Ireland players who were in that 2007 upset over Pakistan — brothers Niall and Kevin O'Brien were the others — says times have changed for the Irish, who were playing in their first World Cup eight years ago.
"We're at a stage now where we don't have a fear factor if we bring our "A'' game," Porterfield said.
Misbah certainly isn't taking Ireland for granted, using Twitter to stress the importance of the match.
Pakistan spin bowling consultant Mushtaq Ahmed, a World Cup winner from that 1992 team, said the Pakistan captain had sent a message to all members of the squad on Friday.
"We are fighting for Pakistan; we must win it for the nation," he tweeted. "Let us all give our 100 percent and leave the result to God."