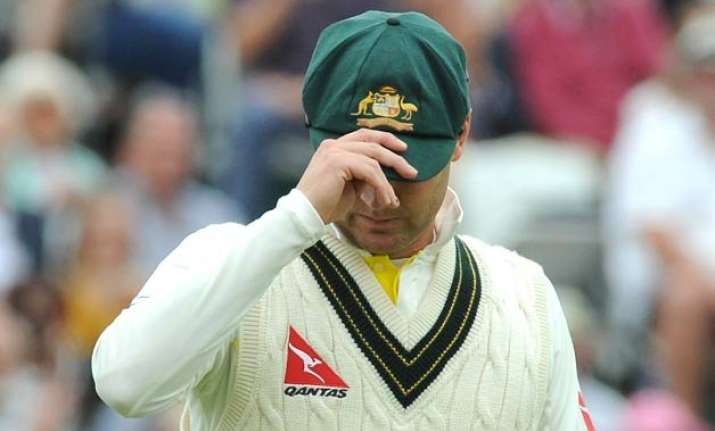 Nottingham: Australia captain Michael Clarke today announced that he will retire from international cricket after fifth and last test match of the ongoing Ashes series against England.
The 34-year-old, whose prolific career has been marred by nagging back and ankle problems that required him to go under the knife earlier this year, has already quit ODI and Twenty20 cricket.
"I'll have one more Test and that will be the end of my career," Clarke told Channel Nine after the loss in third match of the series, losing the trophy to England.
Today's defeat gave England an unassailable 3-1 lead and the coveted urn. The fifth and final match is scheduled from August 20 at the Oval and would be Clarke's 115th five-day game.
"I'm retiring from international cricket. I certainly don't want to jump ship and leave the boys now, so I'll play the last Test at The Oval, give it one last crack, but the time is right now," he said.
"I certainly tried my best, the boys tried their best and we got outplayed. We got beaten. Now it's time for the next generation of players, the next captain to have his opportunity to try and build the team and get them ready for the next Ashes series" he broke down while announcing his retirement.
Clarke's dismal performance in Ashes continued on Friday in Nottingham when he fell at 13 after almost an hour at the crease. He had scored 10 in the first innings of the match. He scored 117 runs in eight innings at an average of 16.71 in the current Ashes series.
Clarke, who took over from Ricky Ponting as the captain in 2011, has not scored a 50 in his last six Tests -- a miserable stat for a player who made 12 hundreds in his first 30 matches as captain.
34 years old Clarke played 114 tests for his country, leading the team in 47 of them.
Clarke's 114 Test appearances so far have yielded 8628 runs at an impressive average of 49.30. He scored 7981 runs in 245 ODIs at an average of 44.58. He has scored 28 hundreds in his career so far with an unbeaten 329 being his best.
He made his international debut for Australia in a one-day international in 2003, and has played test cricket since 2004.
"Retirement isn't the hardest decision when you perform  as I have performed over the last series. It's the right time  to walk away now. I've been very lucky to play over 100 Tests," he said.
"I've had the chance to learn from some older players and now have had the chance to give back. There's so much talent in that dressing room, the guys can bounce back. The potential is there," added an emotional Clarke.