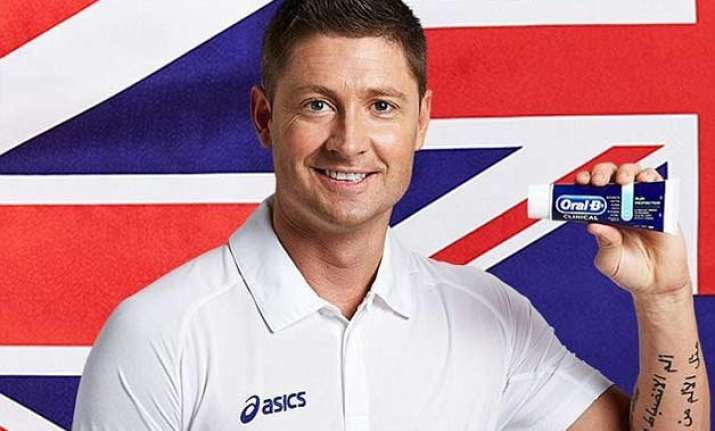 Michael Clarke, Australian Cricket captain has triggered an outrage on social media by his new Oral B campaign which has been labeled as the worst marketing campaign ever. He has reportedly been paid £256,000 for the endorsement deal.
Social media users renamed Clarke as 'Michael Plaque' and called him a 'sellout' and 'money-grubber' for the huge amount of money he got for the commercial.
It could be the picture of him batting with a toothbrush, or the one where he's holding a trophy awarded to 'The Gnashes", either way Michael Clarke's latest Oral B campaign has attracted wide spread criticism from the Australian cricket fans.
In his campaign called 'True Blue Challenge', that aims to boost Australia's oral health and overtake England by 'bowling them over.' Clarke has donned whites in the advertisement.
'This is outrageous Australia, the Poms are laughing at us, it's time to take action,' Clarke says in his Oral B commercial.
"I love beating the Poms on the cricket field, it's time to do it again with my oral health," he says.
Social media trolls compared his campaign with his performance on the cricket field that. "Can't score more than 40 in grade cricket...may as well advertise mouthwash," an annoyed viewer said.
Taking a dig at his fitness, another viewer said, "Glad to see he managed to get through the entire commercial without an injury!"
The 33-year-old will be aiming to hit back at his critics when his team plays against Sri Lanka on Sunday in World Cup league match.