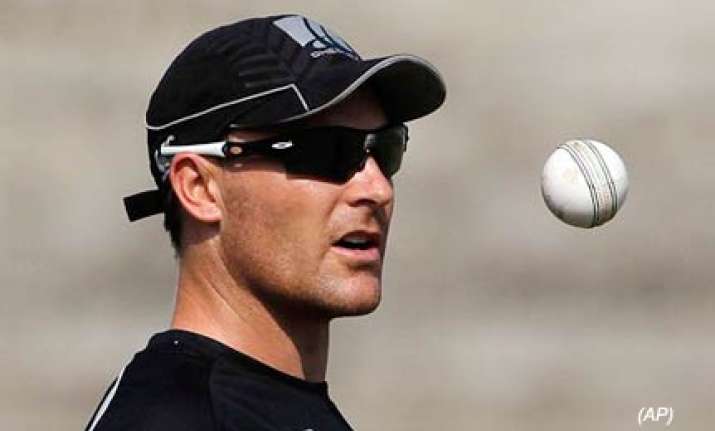 Vadodara, Dec 2: New Zealand, struggling to stay alive in the five-match rubber, going into the third ODI here against India on Saturday, are sweating over the availability of injured opener Brendon McCullum for the must-win encounter at the Reliance Cricket Stadium.
"Brendon's condition is being monitored constantly. He's improving," said visiting team's media manager Ellery Tappin, adding nothing can be said today whether the hard-hitting batsman would be able to take the field in the do-or-die tie on December 4.
McCullum's absence due a troublesome back was sorely felt by New Zealand in the first two ODIs at Guwahati and Jaipur which they lost to go down 0-2 in the series in which the last two ties are to be held at Bangalore (Dec 7) and Chennai (Dec 10).
The wicketkeeper-batsman, who has given up his glove work in Tests but continues to perform the job in the limited overs game, accumulated 370 runs at an average of 74.00 in the three-Test rubber that New Zealand lost 0-1 against India.
McCullum's unavailability for the first two ODIs has left New Zealand short-staffed in batting.
Jesse Ryder, the second-highest run-scorer in the Test series with 274 runs at around 55 per innings, is also not a part of the ODI team as he returned home at the end of the Test rubber to attend to his calf injury that he picked up in the opening match at Ahmedabad.
Incidentally, the Kiwis would be playing their first match at this normally high-scoring venue, formerly called IPCL Stadium, after 12 years.
New Zealand played in the inaugural match held at this ground, February 1996 World Cup tie against Netherlands that they won by 119 runs, and then lost to India by 13 runs in the second match held here in April 1998.
India have a mixed record at this stadium with five wins and three losses, two of the three defeats have come against Australia on the last two occasions.
Pitch curator for Saturday's clash, Vasudev Patel, told PTI that he expects a score of between 280 and 300 to be set.
"The wicket would offer appreciable and even bounce. A total of 280-300 is par for the course," said Patel who had started preparing the match track a week ago.
Meanwhile, the two teams landed here this afternoon from Jaipur with the Indian team arriving without captain Gautam Gambhir and left-arm pacer Ashish Nehra, who would be reaching here tomorrow from Delhi, according to sources within the team.
Zaheer Khan, named today in the squad for the last three matches, after being rested for the opening two games by the selectors, is also expected to join the other members by tomorrow. PTI