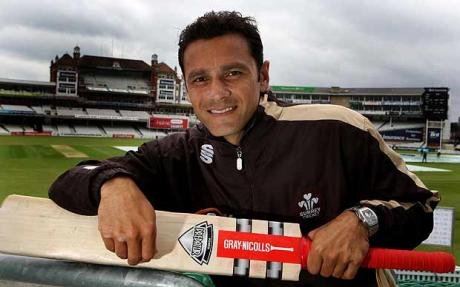 Mark Ramprakash is to be appointed as England's new batting coach following the controversial sacking of Graham Gooch earlier this year.
The 45-year-old Ramprakash, who earned a reputation during his playing days as a technically impressive batsman though never lived up to his reputation, will assume his new role in time for England's one-day tour of Sri Lanka later this month.
He has been appointed until September 2015.
He made a positive impression with the England batsmen after being invited to help out in the dressing-room at the start of the 2014 international summer. Having formed a close working relationship with captain Alastair Cook, he will help out in every format.
Ramprakash, who retired in 2012 at the age of 42 with 114 first-class centuries to his name, has said: 'Cook coped magnificently given the tidal wave of criticism. You did wonder if there was an agenda against him.'
Now he will be given the chance to cement his popularity within the Peter Moores set-up as England embark on a diet of one-day cricket ahead of the World Cup, which starts in New Zealand on Valentine's Day.
Many had tipped Ramprakash's friend and former team-mate Graham Thorpe to replace Gooch in the role, but Thorpe's reluctance to re-embark on touring life pushed England in Ramprakash's direction.
His 11-year international career, which brought him 52 Test caps but only two centuries and an average of 27, often felt symptomatic of an era in which England invariably fell short of expectations.