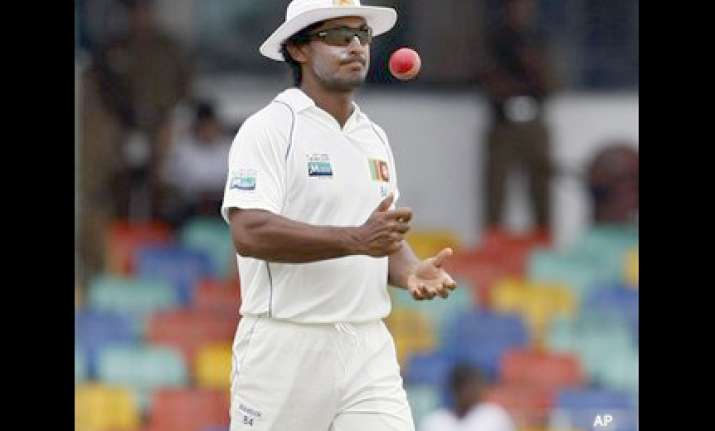 Sri Lanka captain Kumar Sangakkara on Monday  said although fast bowler Lasith Malinga, who missed the second cricket Test against India with a knee injury, has recovered he is still uncertain for the third and final match of the series starting in Colombo, on Tuesday . Malinga had a good bowling session today but Sangakkara said it would be a tough call to take a final decision on the pacer's selection.  
"Malinga is back and strong. He had a good bowl today but wait for an update. It's a pretty tough call (on Malinga's selection). Ultimately, it's a feel thing. Malinga has to feel fine and strong not just physically but more importantly mentally and it is important that he is supported by the squad, the selectors irrespective of whatever happens out there in the middle," Sangakkara told reporters on the eve of the match.  
Asked about opener Tharanga Paranavitana's condition, Sangakkara said, "Tharanga Paranavitana is fine. He got hit on his unprotected left hand while being at the non striker's end when Dilshan smashed one back at him. He's fine." Sangakkara said the P'Sara wicket here is looking good but reckoned it would be difficult to get all 20 Indian wickets.
"It's a pretty good wicket and it depends how you play on that. Looks can be deceiving in Sri Lanka especially. As long as both the sides keep playing the way they played over the past two Test matches, I think there will be a result," he said.  
"We just want to try and win the Test match starting tomorrow. Our focus is playing good cricket on all the five days putting enough pressure on the Indians and getting their 20 wickets which won't be easy on any pitch," he added. Sangakkara stressed on the importance of backing the players in times of injuries and even after the end of their careers.
"Immediate fear is of injury. I don't know whether all the countries have placed proper schemes to look after players who are injured who may have finished their careers because of an injury.
"It is important to make sure their life after that injury and after cricket is taken care of by insurance schemes, pension schemes. The cricket boards should look after those aspects. Those kind of fears are very realistic," he said. "In modern day, a cricketer's life span is getting shorter with the amount of cricket being played and the different formats also contributing to that," he added.
Asked about his new numero uno status in Test ranking, the Sri Lanka skipper said it would be a challenge to hold on to the number one spot for long.  
"It's a privilege to be ranked number one batsmen. I have been there once before. It's nice to get back on the top but the challenge is not getting there but staying there depending on my performance over the next Test match and the next Test series," Sangakkara said. Sangakkara was of the view that it would be difficult for any spinner to replace Muttiah Muralitharan.  
"It will take sometime to fill the shoes of Murali. If you say you are looking for the next Murali, it is not fair on the other bowlers. There will never be another Murali.  
"We should not try to compare any bowler with Murali, if you do that it's a slur on him as well as the bowler. No one is going to get anywhere close to Murali's record," he said. "We are not trying to replace Murali but get bowlers capable of bowling sides out," Sangakkara added. PTI