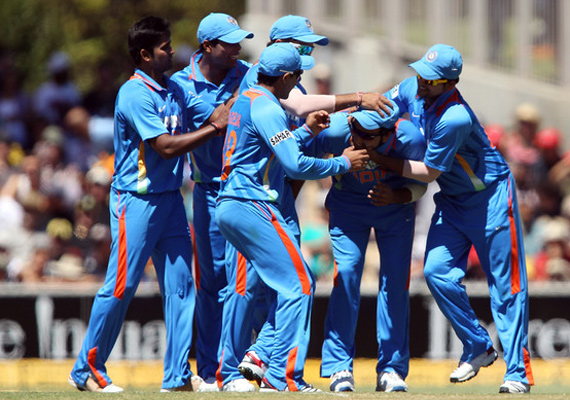 Brisbane, Feb 20: India are grappling with a selection dilemma and a prolonged form slump of their batsmen as they go into the crucial tri-series match against Sri Lanka here tomorrow without the services of their in-form captain Mahendra Singh Dhoni.

Dhoni has been handed a one-match ban for slow over-rate in India's last match against Australia, which they lost by a huge 110 runs at the Gabba here yesterday.

Sachin Tendulkar also appears to be a doubtful starter after he received a blow on his head from a bouncer by Brett Lee.

While fielding in the slips, Tendulkar also took a hit on his shin thanks to an edge from Peter Forrest, which kept him out for 25 of Australia's 50 overs.

Barely a couple of points ahead of Sri Lanka in the table but already having played an extra game, India's best chance is to maximise their winning options in the two remaining games against Sri Lanka.

India have three remaining games, one of them against Australia in Sydney on February 26 besides the two matches against their sub-continent neighbours.

As far as the team combination is concerned, the early momentum of the series has given way to confusion because their most redoubtable batsman, Dhoni, is not available tomorrow.

As things stand, Virender Sehwag is set to lead and Parthiv Patel would get his first game as a wicketkeeper in the side, but Indians would still have to make a choice about the batsman to leave out.

They would surely recall Ravichandran Ashwin who has bagged all his five wickets in the triangular series against the Lankans for impressive figures of three for 32 and two for 30.