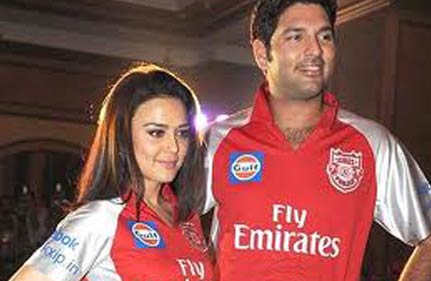 Mumbai, Nov 12 :  Kings XI Punjab, owned by a consortium led by actor Priety Zinta and industrialist Ness Wadia, has filed an arbitration petition in Bombay High Court challenging Cricket Board's decision to terminate their IPL franchise contract.
The move of Kings XI comes close on the heels of Shilpa Shetty's Rajasthan Royals challenging a similar decision of the BCCI in the High Court.
BCCI had recently terminated the franchisees of Kings XI Punjab and Rajasthan Royals on the ground that they had changed the shareholding pattern without informing the Board or IPL Governing Council.
Calling the termination of their franchise contract as a "deliberate and calculated" move, Kings XI contended in the petition that BCCI had taken this decision because they wanted to make large profits by seeking new bids as the value of franchisees had gone up considerably.
Kings XI, jointly owned by Zinta, Wadia, Mohit Burman and Karan Paul, had bagged the Mohali bid in early 2008 for Rs 76 crore. However, two recent franchisees -- Kochi and Sahara Pune -- had fetched BCCI Rs 330 crore and Rs 370 crore.
BCCI had terminated the franchise agreement of Kings XI on the ground that it was signed by different persons and not by the members of the consortium that had bid.
Kings XI contended that Zinta had submitted the bid document after seeking authorisation of other members of the consortium along with Rs 20 crore performance deposit. She had contributed 50 per cent of this amount, the petition said.
The petition refers to a letter written by Zinta on behalf of the consortium to the then Chairperson of IPL Lalit Modi on February 9, 2009 which said a company would be formed in which the original bidders (consortium members) would hold stakes.
The letter ended saying 'Hope this is OK' and Lalit Modi endorsed his signature writing 'Go ahead'.  PTI