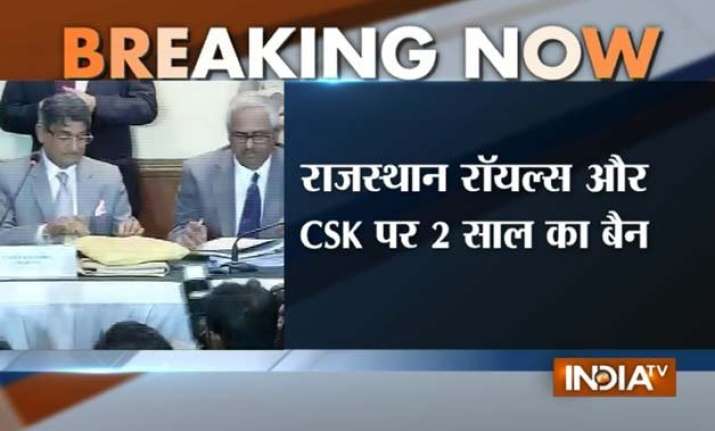 New Delhi: The Supreme Court-appointed committee, headed by former Chief Justice of India R M Lodha today imposed a two-year ban on IPL franchises Rajasthan Royals and Chennai Super Kings. The committee found Gurunath Meiyappan and Raj Kundra guilty of betting and imposed a lifetime ban on both of them.
"On criminal action, the law will take its own course," Justice Lodha said while pronouncing his order.
While pronouncing the verdict, Justice Lodha did not buy the argument that Meiyappan was officially not part of the CSK and Raj Kundra, a United Kingdom citizen, was not aware of Indian regulation against betting.
Justice Lodha said Meiyappan was considered the face of CSK while all the rules and regulations against betting were easily available on the internet. He added that the conduct of both the franchise owners had damaged the reputation of the game.
"Mr. Raj Kundra was placing bets through a known punter,was constantly in touch with bookies," said Justice Lodha.
"Cricket is not just another game in India; it is revered as a religion in the country," he added.
"Any person who has true passion for the game will never be involved in betting," pointed out the former Chief Justice.
The committee, in its inquiry had indicted Meiyappan and Kundra for betting during IPL 8. The match fixing and betting scandal even tainted then Board of Control for Cricket in India (BCCI) president and owner of CSK franchise Narayanaswami Srinivasan.
Srinivasan had to step a side on SC order and was not allowed to contest next BCCI president election.
The apex court had on January 22 this year held that the allegation of betting against Meiyappan and Kundra stands proved and set up the three-member committee of its retired judges, including Justices Ashok Bhan and R V Raveendran to determine the punishment for Meiyappan, who was the CSK team Principal and Kundra, co-owner of RR.
The apex court bench headed by Justice T S Thakur, while pronouncing the judgement, had said it was appointing an independent committee of judges keeping in view the "the trajectory of the present litigation and the important issues it has raised."
Further, the bench had said "the profile of the individuals who have been indicted, would, in our opinion, demand that the award of punishment for misconduct is left to an independent committee to exercise that power for and on the behalf of BCCI.
The apex court held that the allegation of betting against Meiyappan, son in law of former BCCI President N Srinivasan, and Kundra stands proved while the charge of cover-up against Srinivasan was "not proved".