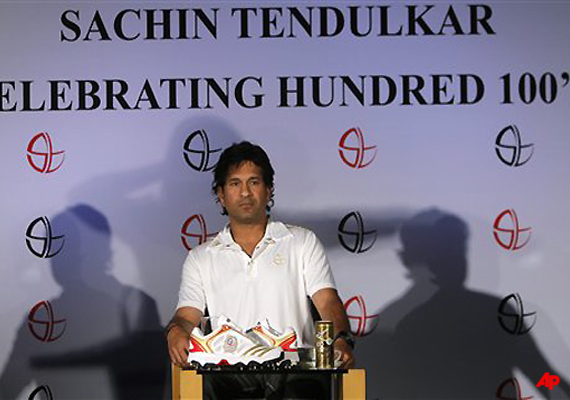 Mumbai, Mar 25:
Senior batsman
Sachin Tendulkar
today revealed that it was India's former coach John Wright, who had first inspired him to score 100 international centuries.
"I remember a long time ago, in the 2003 World Cup (in South Africa), John Wright had told me 'you should become the first player to score 100 international hundreds'. We used to have many chats and in one of them he said this.
"He (probably) told that just to push me. The coach's job is to give the player that push and probably John was doing the same," Tendulkar said at an interactive media session today.
Tendulkar said India were tested severely in England and Australia, but felt the series Down Under could have turned out different if they had not allowed the hosts to build strong partnerships in all the matches.
"I think it has been a tough phase for all of us in Test cricket, that is something we need definitely to look at. I felt the conditions were different if what you call it home advantage."
"I felt those teams played good cricket. England wanted to get the no. 1 spot and Australia, after all that (slump), were also looking a different side. If you compare the Australia series, in every Test match there was just one partnership which changed the game... otherwise if you look at the records, it was more or less the same," the champion batsman said.
"If you look at the Perth Test match, their first (wicket) partnership was 214 runs between Ed Cowan and David Warner). A similar thing happened in Sydney (Australia 37 for 3 and then made 659 for an innings win) and in Melbourne when they were 27 for 4, and there was a partnership in the second innings (between Michael Hussey and Ricky Ponting)," he said.
"In all the matches, if you see, these partnerships have hurt us. Obviously we have not been able to put up a big total on the board. But as I said the surface is slightly different," he stated.
"It's just if you remove that one partnership from every match, more or less the scores were the same. If we were to win, there should have been a big partnership from our squad and that did not happen," he added.