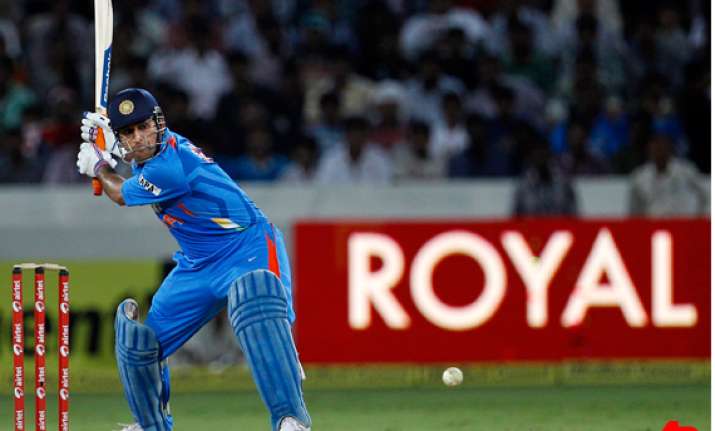 Hyderabad, Oct 15: The India-England series has been billed as a 'revenge series' but Indian captain Mahendra Singh Dhoni chose to play down the issue after his stellar show in the first ODI against England.

"I believe revenge is a very strong word. If you look at the England series especially the second half, we did play well. We scored runs but unfortunately there were rain interruptions and the ball used to become heavier and tougher for our bowlers to grip," Dhoni said at the post match media interaction after India beat England by 126 runs in the first ODI.

"This is a series where the idea is to groom the youngsters. Also this win came after a long time and it was an important win. You can't enjoy playing the game if you lose too many matches," the skipper said candidly.

Dhoni termed his unbeaten 87-run knock as one of his "precious innings" and said today he played like he used to do at the start of his career.

"I normally don't believe in rating my performance but yes this innings is a precious innings for me. Over the years, I have played some good knocks and this one is also a valuable one. Once I started batting at No 6, I had remodelled my game. This innings of mine was a very well calculated one."

"I tried a lot of aerial shots which I normally don't play nowadays. I was practising a lot of hitting over the cover region. I felt this was the right match to try out and it worked well," he added.

He feels that batting at No 6 is something that shouldn't be entrusted on any junior player as it would be asking too much from him.

"Often on sub-continent tracks, if you send a junior guy, he might not get enough deliveries and get out scoring 10 or 15. Then again on a good strip he may just score around 35 and not get enough time to score big fifty or a 80," Dhoni observed.

"After 15 matches, you will see that particular player's average in the range of 25 to 30. That's why you need to send them up and give them as much opportunities possible. Look how Yuvraj Singh transformed his game batting at that position," he quipped.

Dhoni felt that lack of dew was one factor that helped his bowlers stick to the right lines.

"Yesterday in the evening, I saw there was a fair bit of dew but today fortunately there wasn't any dew. That really helped our cause. Also the dryness in the outfield offered a bit of reverse swing as well," Dhoni explained.

He lauded young Ravindra Jadeja's effort as the all-rounder scored a quick 27 and then grabbed three wickets for 34 runs.
"Jadeja is an important player as he brings in a lot of stability to the side," Dhoni said.

About the new Powerplay rule, Dhoni said, "It was important for us to rotate the strike initially. There was a bit of uneven bounce but I won't say too much. The new Powerplay means that even if you take it in the 36th over, still you have 10 overs left. Therefore, you can't go all out.

"I reckon 250-260 would have been a good score and in the end we got 300."

Dhoni ruled out the idea that he would depend more on spin to counter the English batsmen as the visitors have found it uncomfortable.

"Had it been April or May when it's dry and humid with the pitches offering lot of turn, I would have said that I would go with three spinners and two seamers. But in these circumstances when we are approaching winter season, we still don't know whether their will be dew in Delhi and Mohali," he reasoned.