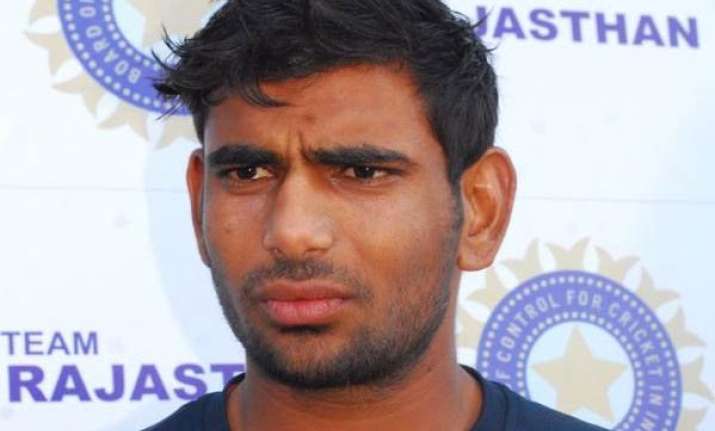 Nathu Singh thought his teammates were pulling his leg when they said he was selected in the Board President's XI squad to play South Africa.
The 20-year-old fast bowler from Rajasthan only believed the news when he saw his name in the team on the BCCI website.
Nathu had every reason to be surprised. It's unusual for a player who made his first class debut less than a month ago and had just three first class matches under his belt to be fast tracked into a tour game against an international side.
Nathu's overall first class record is not exceptional either. In four matches, including one after his selection in the Board President's XI, he has 12 wickets at an average of 29.33.
So why was he selected then?
"Selectors' job is not only to go by the scoresheets otherwise the statisticians would have done a better job. For last three years, we have been watching all the home games. We always try to find extra talent and extra spark and we saw some glimpse in Nathu Singh and we want to give him an opportunity," chairman of selectors Sandeep Patil explained later.
That spark was visible on Nathu's first class debut against the mighty Delhi earlier this month. He grabbed the first seven wickets in the Delhi second innings and finished with 7/87 in the second innings.
Gautam Gambhir was one of Nathu's seven victims and he later said that he had seen new India material after a long time, according to a Cricinfo report.
And it's not just Gambhir who is impressed by the strapping young lad. The Rajasthan Royals mentor Rahul Dravid also spotted Nathu's raw talent and so did Glenn McGrath when Nathu trained at the MRF Pace Foundation.
"McGrath sir after watching me at the nets told local coaches that I have a good incoming delivery and he was impressed with my pace. He has said I am India's future. He has advised that I should never compromise on pace. The highest speed that I have clocked is 145 kmph," said Nathu.
Nathu's father is a labourer in a wire factory and his humble background was initially an obstacle. When he wanted to join a cricket academy, his father had no money to spare. But Nathu caught the attention of the coaches there and they agreed to subsidise his fees.  
Nathu's gratitude to his parents for their support is evident from the tattoo he sports on his arm, reading "Mom dad".
Only time will tell if he translates his undoubted talent into success. With India's pace bowling cupboard being bare right now, as the ODI series against South Africa showed, Nathu's emergence offers hope that the future will be brighter.