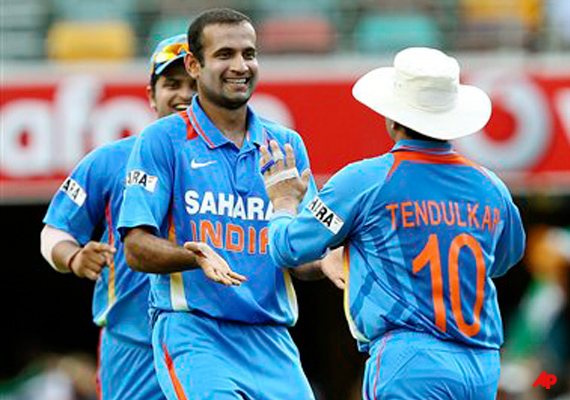 Sydney, Feb 24: Irfan Pathan today said he is keen to fill in the position of the medium-pace bowling allrounder in the Indian team that skipper Mahendra Singh Dhoni craves for all too often.

Dhoni has often rued the absence of a medium-pace bowling allrounder who could lend balance to the side and Pathan feels he is good enough to bowl 10 overs and hit some lusty blows.

"I think I am a bowler who can bat. If you look at me in the nets, I always make sure I give equal importance to both aspects. When I am bowling, I make sure I need to bowl length with the start, use variations and try to finish it off with death over bowling and variations," said Pathan.

"Same in batting, I make sure that I finish my batting with regular bowlers. I try to do some extra bowling, thrown by coaches and bat extra. In a match, when I bowl I'm a bowler and when I am batting, I try to think as a batsman, he added.

Pathan admitted that when he is able to chip in with some wickets, his batting also improves and vice-versa.

"The best thing for me would be to take wickets. When I keep taking wickets, it helps my batting and vice-versa. When I look at myself, I feel its 60-40 -- 60 bowler, 40 batsman."

The 27-year-old also claimed that he is ready to bat or ball wherever his team required him to.

"I am ready to bat wherever the team demands. It is not an issue for me. In terms of bowling as well, I am willing to bowl wherever the team wants me to, with the new ball or old ball. As long as I am playing, I am happy.

In previous matches, Pathan was once sent in as number seven, while in the other game he batted at number nine.

"I want to be ready to bat at any position as I have batted at all positions. What is important is what the team management and captain think. I want to let things come to me than keep using my mind a lot. It is better to be relaxed and let things come. Sometimes you bowl good balls and don't get wickets and sometimes you bowl bad balls and get wickets," he said.