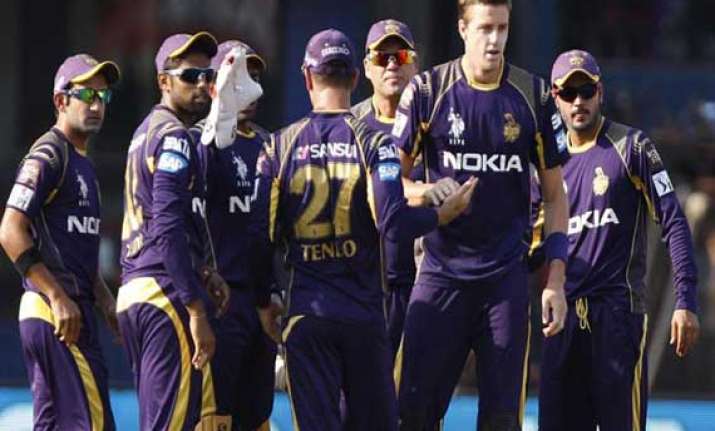 Kolkata: A win away from clinching an IPL playoff berth, the high-flying Kolkata Knight Riders would look to complete the formalities against a beleaguered Royal Challengers Bangalore when the two teams clash at the Eden Gardens here today.
The Knight Riders have shown glimpses of their form in the triumphant 2012 season when they enjoyed their largest winning run of six matches, a record they would look to emulate after notching a high five with an eight-wicket win over Chennai Super Kings here last night.     
Robin Uthappa's belligerent 39-ball 67, his fourth half century of the season, followed by Shakib Al Hasan's 21-ball 46 not out ensured that the Knight Riders cantered home with two overs to spare.     
The win was significant as it brought on a four-point divide between the top four and bottom four teams, a gap that would be difficult to bridge especially for teams like Bangalore and Hyderabad who are not technically out of contention.     
The Knight Riders had begun the home stretch more than a month after the season seven began in UAE but it was worth the wait as they have bounced back strongly from a four-match losing streak in the first leg with a rethinking in the batting order.     
It has been a resurrection for Uthappa who last featured for India more than two years ago in T20.     
Uthappa's has been phenomenal after being promoted up the order with his last seven innings reading 47, 65, 47, 46, 80, 40 and 67. He would surely be looking forward to being in contention for India's England tour.     
With 489 runs from 12 matches, Uthappa leads run charts among the Indians and lies next to Orange cap holder Glenn Maxwell who has 531 from 11 matches.     
With skipper Gautam Gambhir, Uthappa also put on two century-plus partnerships in the last six matches.     
With the duo in sublime form, it has been a case of building a strong foundation to make it easy for the middle order which has not been tested the way the team think tank would have liked to.