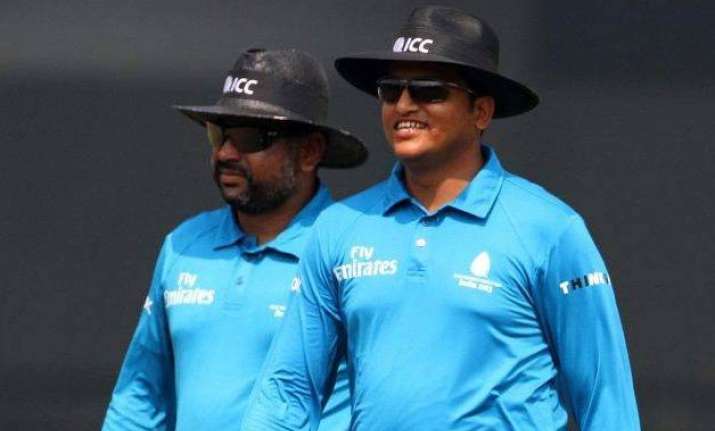 Indore: Team India has filed a complaint against umpire Vineet Kulkarni over four dubious decisions in the ongoing series against South Africa. All the four were leg before decisions that were given or not given.
The sequence started in the first T20I in Dharamsala when JP Duminy had a confident lbw appeal by left arm spinner Axar Patel turned down when he was on 5. A few overs later, Duminy was again given not out when medium pacer Bhuvaneswar Kumar rapped him on the pads when he had reached 33. On the second occasion, Kulkarni signalled two leg byes instead.
Duminy ended up being the matchwinner for South Africa with an unbeaten 68. Indian skipper MS Dhoni made his displeasure clear after the match. "We did not have quite a few decisions going our way and sometimes these can change the match. It could have been different if we could have got Duminy out early," he said.
Kulkarni was trolled by fans on Twitter later with some suggesting that he should have got the Man of the Match award.
Then, in the first ODI in Kanpur, Faf du Plessis survived a massive lbw appeal by R Ashwin off the first ball he faced. He went on to make 62. Until now, it seemed as if Kulkarni was one of those umpires who gave the batsman the benefit of the doubt.
But when India batted, Kulkarni raised his finger to an lbw shout by Morne Morkel much to the dismay of Shikhar Dhawan when he was on a fluent 23 off 28 balls. Morkel was bowling round the wicket and the ball looked like it would have missed the leg stump.
The 36-year-old Kulkarni has umpired in 18 ODIs and 7 T20Is so far.
Of course, it could be argued that the BCCI has only itself to blame for this mess by stubbornly refusing to use the DRS.