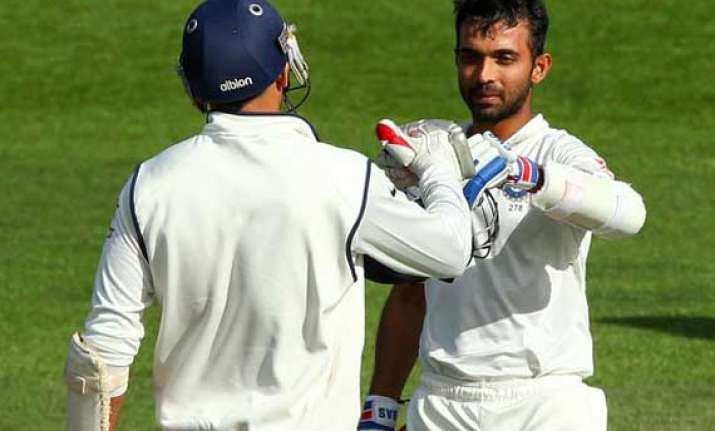 LONDON: Scoreboard after India finished at 290 for nine in the first innings at stumps on the first day of the second Test against England at Lord's here Thursday.
Mohammed Shami was batting on 14 and Ishant Sharma on 12 when stumps were drawn. Ajinkya Rahane struck a fine 103 to save the day for India, who were left struggling at 145 for seven.
India 1st Innings
Murali Vijay c Ballance b Plunkett                24   
Shikhar Dhawan c Ballance b Anderson                7   
Cheteshwar Pujara b Stokes                   28   
Virat Kohli c Prior b Anderson                  25   
Ajinkya Rahane c and b Anderson                103   
Mahendra Singh Dhoni c Prior b Broad               1   
Ravindra Jadeja lbw b Ali                  3   
Stuart Binny lbw b Anderson               9   
Bhuvneshwar Kumar b Broad                 36   
Mohammed Shami not out                 14   
Ishant Sharma not out           12   
Extras: (17b, 10lb, 1nb)              28   
TOTAL: (for 9 wickets) 290   
Overs: 90   
Fall of wickets: 1-11, 2-48, 3-86, 4-113, 5-123, 6-128, 7-145, 8-235, 9-275   
Bowling: James Anderson 22-7-55-4, Stuart Broad 22-5-79-2, Liam Plunkett 15-5-51-1, Ben Stokes 17-5-40-1, Moeen Ali 14-2-38-1.   
England: Alastair Cook (captain), Sam Robson, Gary Ballance, Ian Bell, Joe Root, Moeen Ali, Matt Prior, Ben Stokes, Stuart Broad, Liam Plunkett, James Anderson.   
Toss: England.