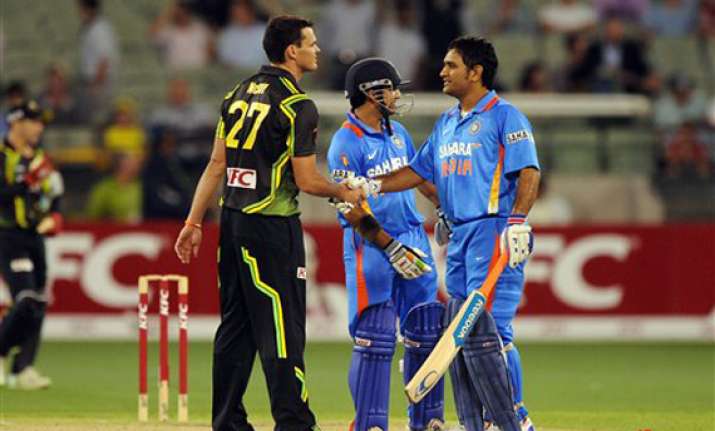 Melbourne, Feb 4:  Finally a win under their belt in what has been a highly disappointing tour, India would aim to carry the Twenty20 momentum into the one-dayers when they take on Australia in the first match of the tri-series starting here tomorrow.

After a 0-4 thrashing in the Tests and a loss in the first T20 against Australia, India tasted victory in the second T20, winning by eight wickets last night.  The beleaguered Indians have been revitalised by the arrival of young players such as Suresh Raina, Ravindra Jadeja and Rahul Sharma.

The effort on the field was markedly improved and the Indians would be hoping that the shift in the momentum continues in the ODIs as well.

The team will have its share of seniors as well with veteran Sachin Tendulkar's return to the fold.  Tendulkar, still on the threshold of his 100th international century, has put his hands up for the tri-series in order to cross the milestone.

The maestro has faced unprecedented pressure in the last one year during which he played 11 Tests and 21 innings but still wasn't able to get over the line.

There were two scores in the 90s and one in 80s but Tendulkar could not go the whole hog and found a way to eject himself out from the middle.

Now the iconic player is available for selection and it means either Ravichandran Ashwin or promising leg-spinner Rahul Sharma would have to watch the proceedings from the sidelines at the MCG.

Both Ashwin and Sharma were excellent in the first two Twenty20 matches though the latter appeared to have done marginally better than his more experienced spin partner.